Last year, our neighbors in Texas, Florida, Puerto Rico, and the Caribbean saw their communities devastated in the wakes of Hurricanes Harvey, Irma, and Maria. The destruction was widespread, affecting 28.4 million people – 8.6 million households upended, with more than 715,000 homes damaged.
While the road to recovery is long, Habitat for Humanity was on the ground immediately and continues to pave that road with Habitat Hammers Back, an initiative to help the affected communities rebuild, stronger than before.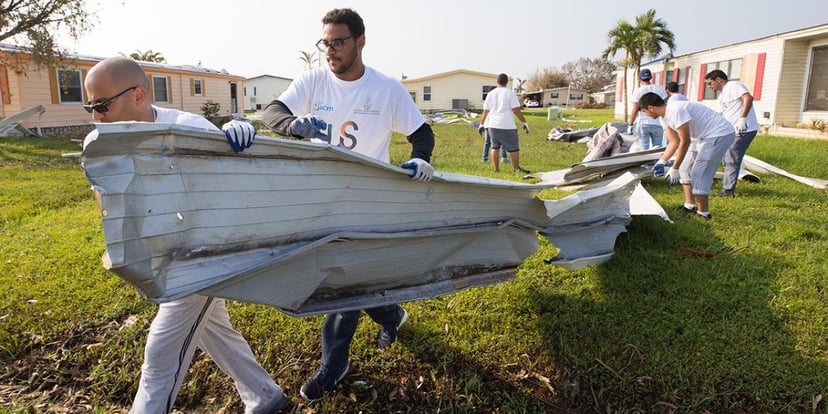 To that end, Habitat for Humanity set a goal of helping more than 6,000 families in Texas, Florida, and Puerto Rico over the next three to five years, and support the Caribbean in both its immediate and long-term response strategy, primarily in the Dominican Republic.
A recent six-month progress report by Habitat for Humanity International saw that this work is already well underway. In Texas, Habitat delivered more than 5,300 disaster relief and recovery services, completed more than 180 construction projects, and funded more than 200 loans to homeowners. In Florida, Habitat delivered more than 4,800 disaster relief and recovery services, completed more than 370 construction projects, and funded 17 loans. In Puerto Rico – where extensive infrastructure damage has made recovery even more challenging – Habitat assembled and distributed 2,000 each of shelter repair kits, solar lanterns, and solar panels. In the Dominican Republic, Habitat helped 800 displaced households – 4,000 people – with cleanup and sanitation, as well as distributing emergency shelter kits and providing technical advice.
Habitat for Humanity is determined to do more than provide immediate assistance in the aftermath of disaster. Habitat believes in providing pathways to permanence, a framework for helping families move toward safe, affordable, and permanent housing solutions. This means ongoing disaster risk reduction before disaster strikes, and in the wake of disaster, a holistic strategy that provides immediate relief, early recovery in the form of short-term housing and financial interventions, and reconstruction and development that builds long-term strength, stability, and self-reliance through housing.
Of course, disasters like last year's hurricanes are not just a matter of numbers. Each statistic is an individual story. It's the Army Veteran in Texas whose home is being rebuilt with the help of volunteers. It's the Habitat homeowners in Florida who built their home with volunteers eight years ago and saw some of those same volunteers return to help them repair their damaged home after Hurricane Irma. It's the couple in Puerto Rico who see more than tools in their shelter repair kit – they see hope for a life rebuilt.
To see the full six-month progress report, click here.