I

n true Valentine's Day spirit, our volunteers were sharing the love this past month. Despite record-breaking rains, our volunteers showed up on site and got the job done! See what we have been up to and how you can get involved: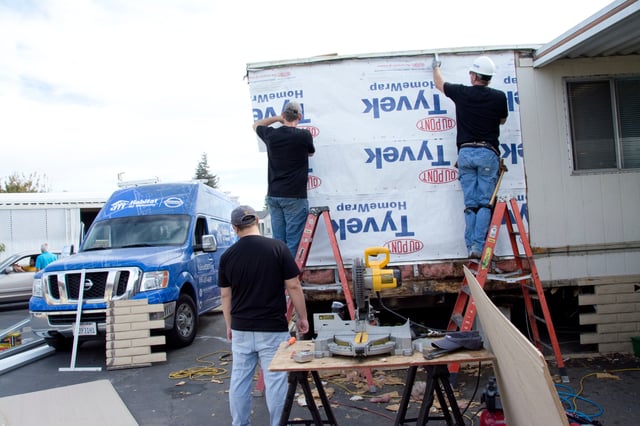 Martinez, Muir Ridge (20 New Homes): Interior work – painting, cleaning, electrical, etc. – is coming to a close on the six homes of phase two. Volunteers are now hard at work outside, installing fencing and forming retaining walls. Mark your calendars for the Home Dedication event coming up on May 20th! Stay tuned for more details.
Home Repairs: In Hayward, our Home Repair team has been busy repairing siding, replacing porch steps, installing handrails, and working on plumbing issues for multiple homeowners. In San Jose, we've been working to provide homeowner Lydia safe access into her home by repairing porch stairs, while improving her manufactured home's siding and skirting.
*SAN JOSE FLOODING UPDATE: As you may know, nonstop rain has caused dangerous flooding in the City of San Jose. Hundreds of people were evacuated from their homes, and many more have been impacted by the river of water flowing through the streets. We can report that our partner homeowners are safe and residing outside of the flood area. Click here to see how you can help those in need and for flood relief resources.
We are reminded of the importance of our home repair program. We have worked in the City of San Jose for 30 years building, renovating, and repairing homes for families with low-incomes. Help us continue our repair work by donating today.