At Habitat for Humanity, we believe that everyone can make a difference. People from all faith traditions, backgrounds, and world views come together in a shared value of service through Habitat. We see it time and again. Faith communities – or non-faith traditions – practice love in action, form bonds of spirit and purpose, and learn together on our construction sites, in our Playhouse workshops, and as unified voices advocating for affordable housing.
Interested in volunteer opportunities for faith communities in the East Bay and Silicon Valley? Even in these socially distant times, you can still engage in service through Habitat. Here are a couple of ways you can get involved!
Host a "Hello from Habitat for Humanity" presentation!
We know that a sense of community is difficult to nurture in the midst of the current health crisis. One way to connect members of your community is to virtually gather around our shared purpose of doing good for our neighbors. Our "Hello from Habitat for Humanity" presentations do just that – bring your community together (from a safe distance) through learning, dialogue, and shared vision. Karen, our Faith Partnerships Manager, can join your virtual faith service or gathering – just like she does in person every year – to discuss Habitat for Humanity's history, impact, and direct service in your community. What's more – it's the perfect time to ask questions, discuss our mission, and learn how to engage further and make an even bigger difference for more of our neighbors.
Volunteer on the Construction Site or Hold a Playhouse Build!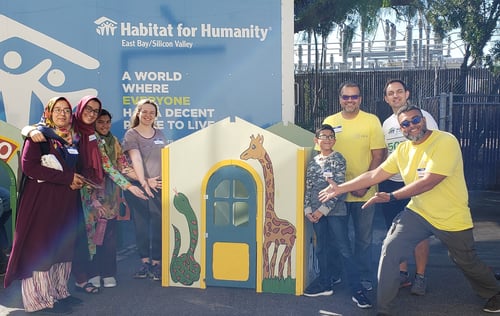 Want to empower your community through action? You can gather with your faith community at one of our construction sites or by sponsoring a family-friendly Playhouse build! They're both great ways to give back, bond as a community, learn new skills, and see the impact of your service firsthand. No construction experience necessary!
We are currently open for volunteerism at our Bridge Housing Communities site in San Jose. We are also scheduling small groups to volunteer with our Playhouse Program. We can bring the Playhouse build to you, or hold it at one of our workshops in Oakland or Milpitas.
All volunteer and build environments are maintained with strict precautions according to the latest information from health agencies, so we are prepared to host your group with your health and safety as our top priorities.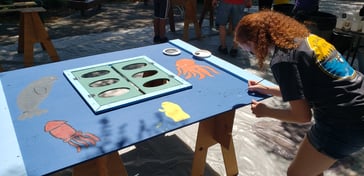 "The youth group at Asbury United Methodist Church was fantastic! This was the first youth group activity within the CAL-PAC United Methodist Conference since Shelter in Place, and it was a big success. The communal energy, as they worked together to create an adorable playhouse for a local family, was an incredible way to re-open our Playhouse Program." – Karen, Faith Partnerships Manager
There are many more ways to get your faith group connected with Habitat! Whether rolling up your sleeves to join us on a build or starting a conversation with others as we advocate for affordable housing, you're making a difference. Stay connected and in the know by completing the form below to receive our bi-annual Faith Newsletter. Learn about the influence faith groups have on our community and the beauty of seeing people of all faith groups come together to build a world everyone has a safe and decent place to call home.