While spring is a great season for freshening and organizing (get started with these 5 tips from our Habitat ReStore!), it's also the ideal time to give your home some TLC on a more structural level.
Our Home Preservation team knows a thing or two about making home repairs - they made more than 150 critical repairs for Bay Area homeowners this year alone! So we asked them to share their top tips on spring home maintenance.
Here are some prime pointers from our pros that will have your home in great shape: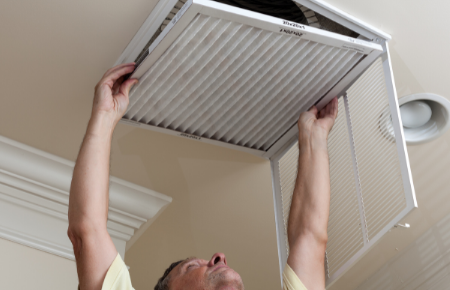 Jon McPherson, Senior Construction Manager:
Spring is a good time to change the filters on your heater/HVAC system! A clogged air intake filter reduces the efficiency of your furnace by forcing the system to work harder to move the air through the system. On the other end, clean the floor and wall registers, testing to see if the louvers operate and are set correctly for that area. If possible, lift the registers out of the floor or off the wall and vacuum as much of the pipe work as you can easily reach. Companies like Coit offer ductwork cleaning services, and it's a good idea to do a thorough system cleaning every few years, depending on how much you use the system.
Follow Jon's advice above to literally breathe easier this spring while you're inside! Now, it's time to turn your attention to your home's exterior. For that, Bob Vila's Spring Home Maintenance Checklist makes a great guide.
Forrest Brown, Program Manager:
Wet, windy winter weather can be hard your roof and gutters, exterior walls, windows, doors, foundation, and decks. When warmer, drier weather arrives, it's time to take a walk around the exterior of your house to check on the condition of those systems.
Things to look for:
Roof: Find those loose fasteners, drip edges, or gutters, and keep an eye out for cracked, damaged, or missing shingles. In particular, look out for "nail-pops," where loose roofing nails are pushing up shingle tabs and allowing for water to enter the roof.
Gutters: Look for space between the gutter and your wall or fascia, especially if water runs down the side of the wall during rain events. The spikes or hangers can work themselves loose over time and may need to be re-secured or even require replacement. Inspect to ensure all connections are secure. Scoop out any large obstructions and flush out any remaining debris with a hose. Ensure your gutters are pitched towards downspouts, and that water flows freely out and through – there should be no standing or slow-moving water! If you're running into a clog, break it free with a plumber's snake. Pay special attention to your gutters' seams, ends, or anywhere else where you see a leak or missing sealant. Leaks along the seams or end caps can be repaired by removing old sealant and re-applying. Ensure splash blocks and gutter extensions direct water away from your foundation, and confirm that soil is graded away from house to prevent water from pooling and collecting. Want a step-by-step walkthrough to get the ins and outs of gutter inspection? Check out this guide from SFGate.
Exterior Walls: Be on the lookout for water stains or weak spots in your siding or other exterior – these are indications of trouble. They could mean that your gutters aren't doing their job, or open you up to pests and other uninvited animals.
Windows: Windows are a prime spot for heat loss – which affects your comfort and your wallet! So, if you want to keep comfortable and energy-conscious in the coming months, check those windows. If you've got any leakage around your windows, you're letting that nice, cool indoor air out and that hot summer air in. What you want to look for in any damage to the caulking and weather stripping around your windows. If you've been seeing condensation in your double- or triple-glazed windows these last few months, that's a telltale sign that your weather seal is faulty – and that you might need to replace that glass or window.

We hope these tips from our handy Home Preservation team members help you head into springtime with a spring in your step! If you are (or know) a homeowner with home repair needs you're unable to afford, click here to learn more about whether you might qualify for assistance through our Home Preservation Program.