Through the eyes of Dr. Martin Luther King, Jr., a Beloved Community demonstrates equal opportunity, peace, and love for all. It's a community we all strive to create and sustain. This month, we mark the 50th anniversary of two historic events: Dr. King's death, and the passage of the Fair Housing Act –prohibiting discrimination based on characteristics such as race, national origin, religion, gender, and disability – a key part of Dr. King's legacy of civil rights activism.
We believe a Beloved Community is created when everyone works together, engaging in conversation, raising awareness, building support, and taking meaningful action. In our work toward that Beloved Community, we are thankful for our corporate partners, whose dedication and commitment to philanthropy are taking us closer to that vision.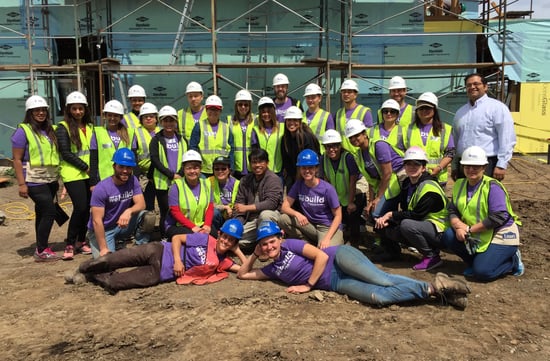 On April 11
th
, we commemorated the Beloved Community with a special build day for our corporate community. Volunteers from Wells Fargo and Turner Construction filled our 30-home development, Central Commons, in Fremont. Hard hats and hammers at the ready, volunteers were eager to get to work, making a concrete difference in the housing crisis. Both companies put financial support behind their volunteer support, lending both the funds and the hands we need to build a community that will stand for years to come.
At the Beloved Community building event, future Central Commons homeowner Darwin stood up to thank our friends from the business community. "You empower families," Darwin said, "because it's people like you folks – a community of volunteers who contribute to building a better future for a family just like mine."
The participation of companies like Wells Fargo and Turner Construction gives families the hand up to build beyond the four walls they work so hard to raise. As Pat, our Corporate Engagement Coordinator, stated at our Beloved Community build, "What you are doing here is truly profound. You being here means a child with a quiet place to study. It means a parent with the peace of mind that comes with knowing their children will have a place they will always call home. It means a family investing in its future and in the generations to come, keeping an eye on the horizon rather than just an eye on the end of the month."
A special thank you to Wells Fargo and Turner Construction for joining us this month for our Beloved Community build. Your contribution and devotion to create a Beloved Community has provided families the gift of opportunity.
If you are interested in getting your corporate group involved in an unforgettable experience that builds both your team and our community, click here!