As an affordable homebuilder for 36 years, Habitat East Bay/Silicon Valley knows how vital it is to have a skilled, knowledgeable team to bring a project to fruition. And with 80% of a Habitat home being built by volunteers, we know a thing or two about teaching those skills. Thousands of volunteers come through our sites each year – many without a single day of construction experience under their tool belts – and leave feeling empowered.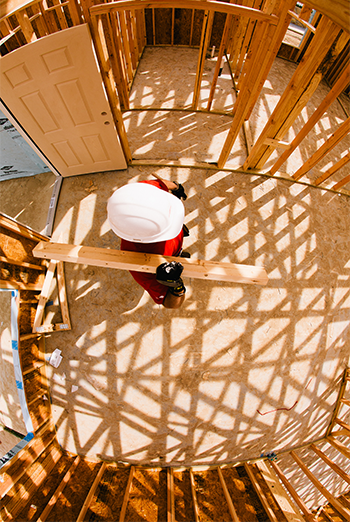 Skilled tradespeople are a valuable commodity, and they're in high demand – so high that it's driving up construction costs and pushing back building schedules across the industry. The answer to how to get a job in the trades often starts with a high school diploma or GED, along with hands-on training learned on the job or through an apprenticeship program. With the right training, the trades can be a strong career path for many young people. In fact, Penn Foster Career School recently highlighted the trades as a strong bet in this economy: "One of the more stable spots within this struggling American workforce, however, could be found within the skilled trades industry, in roles like home building and construction."
And while Habitat can't churn out a skilled tradesperson in a single day of site work, we are uniquely positioned to provide hands-on building experience, a supportive learning environment, and connections to new opportunities.
Introducing the Trades Support Program
It's why we are piloting a new endeavor, the Trades Support Program. The building industry needs a skilled pool of talent, and many young students are seeking viable career paths with promising futures. In an effort to grow – and build diversity and equity within – the trades industry's workforce, Habitat is collaborating with other nonprofits, our corporate construction partners, and educational institutions on this unique program.
Habitat will offer the hands-on building experiences that come from our sites and workshops, enhancing the existing educational curricula of nonprofit partners like the Building Industry Technology Academy (BITA), high school programs, or the in-house training programs of corporate partners. By providing a supportive environment that fosters applied learning, Habitat will help students develop technical skills and practical construction experience. And by leveraging our corporate partnerships, Habitat can connect students directly with industry professionals for mentorship and career resources.
The Trades Support Program aims to expose students to a hands-on trades experience with professionals/mentors. At the same time, the program will help prepare a talented workforce for a building industry keenly in need of just that. And through these partnerships, we'll grow support for our own mission to build homes, communities, and hope.
Of course, for the Trades Support Program to move forward from a pilot program, we need strong partnerships. Thankfully, partners like longtime Habitat supporter Simpson Strong-Tie are already stepping up.
Partnerships Pave the Path Forward
The Trades Support Program pilot is the most recent in Simpson Strong-Tie's long history of support, and it's an indication of how strongly they value workforce development and equitable opportunities. While they have mentorship, campus tours, job shadowing, and valuable industry connections to offer, they were looking for opportunities to connect with an eager pool of students. Luckily, BITA is already hard at work, educating the industry's future skilled professionals. And Habitat has the ideal classroom – active build sites that promise hands-on experience and enthusiastic crew leaders.
But just as you can't build a home with Simpson Strong-Tie products alone, Simpson Strong-Tie knows we need to get more of the industry on board – so they're challenging other construction companies to take part in the Trades Support Program. Together, they believe, we can offer students a more holistic look at opportunities within the trades industry – while supplying the industry with a diverse and talented pool of future leaders.
As an added benefit for Simpson Strong-Tie and other partners, the Trades Support Program offers the chance to work with young minds and the next generation of builders – a prime opportunity for employees eager to give back to their community.
Win, Win, Win… Win
The Trades Support Program will be a win all around. It means strong career skills, experience, and connections for students exploring the trades – especially those from limited-income households. It means fostering a talented, engaged workforce for an industry suffering from labor shortages. It means enhancing the great work being done by our educational partners. And it means more support for Habitat's mission.
If you're interested in participating in the Trades Support Program as a corporate partner, nonprofit collaborator, or educational institution, please email Corporate Development Associate, Amy Berg. Together, we build more.