Our construction sites remain open for our essential work, and we need your help! Take a look at our volunteer opportunities in San Jose, and be a part of the solution in these unprecedented times. Our rigorous health and safety guidelines are designed for you to keep yourself safe while building shelter that does the same for our neighbors.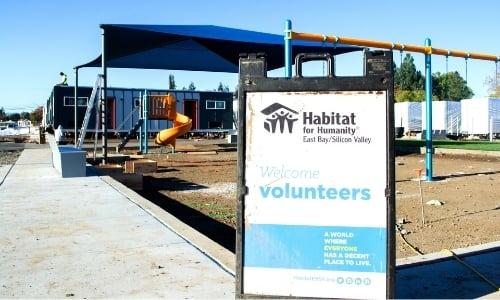 San Jose (Rue Ferrari): Our Habitat staff is checking the final items off this Emergency Interim Housing site's to-do list! The last to-do is a bit of electrical work to ensure these units and the community's common spaces can light up a path toward stable, permanent housing!
San Jose (Evans Lane): Plenty of hard work has gone into this Emergency Interim Housing community this month to prepare it for our neighbors experiencing homelessness. Volunteers have been insulating the units and installing framing for skirting.
Upcoming Habitat for Humanity Volunteer Opportunities:
2021 is shaping up to be a busy year! Here are few upcoming volunteer opportunities on a Habitat for Humanity construction site:
Volunteer Opportunities in San Jose

Volunteers are needed through the middle of February to help complete our Emergency Interim Housing community on Evans Lane in San Jose. Click here to see our volunteer calendar.
We have a new renovation project on

Guanacaste Ct.

in San Jose where volunteers will be needed starting in March.

Volunteer Opportunities in Oakland:

Habitat will be kicking off a renovation project in Oakland this spring and will need help from volunteers starting as early as March!

Volunteer Opportunities in Walnut Creek:
With the wellness of our Habitat staff and volunteers as our top priority, we will continue to enforce our health and safety guidelines and limit the number of volunteer spots available for each site. Click here to see our up-to-date volunteer calendar and to sign up for a time that works for your schedule.
Stay updated on these volunteer opportunities by following @HabitatEBSV on Facebook and Twitter and @Habitat_EBSV on Instagram!