Whenever Joanne McDonough walks onto a Habitat site, she brings her energizing smile and spirit along with her. Joanne first became involved with Habitat when she happened to drive by a home dedication; noticing the balloons and people gathered she decided to stop and check it out. That was 15 years ago.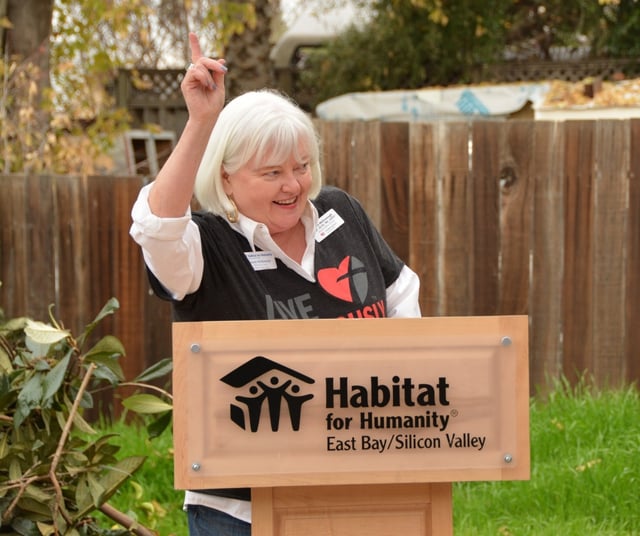 Since that day in 2002, Joanne has shared her time, compassion, and faith with Habitat East Bay/Silicon Valley. Her work coordinating volunteer groups and raising funds with her company, Thrivent Financial, allowed her to see what a difference the Thrivent Builds sponsorship made to Habitat. Alongside many other Thrivent volunteers, Joanne helped build homes, revitalized neighborhoods, and got to know our Habitat homeowners.
However, her commitment to Habitat did not end there. Joanne recently ended her tenure with our Board of Directors, serving from 2004 to 2015. During her time on the board, Joanne served as Board President, traveled with Worldwide Thrivent Builds to build with Habitat in El Salvador. She has recorded hundreds of volunteer hours and has led Thrivent Financial to contribute over $2M for Habitat East Bay/Silicon Valley. Most recently, the Association of Fundraising Professionals – Silicon Valley honored Joanne with the Distinguished Volunteer Fundraiser award for her dedication to Habitat's mission.
Joanne continues to be active in the Thrivent Builds program, as a key advocate. Thrivent is one of our strongest corporate partners to date in local builds.
Thank you Joanne for your continue dedication towards a world where everyone has a decent place to call home. It is our honor to work alongside you!