Our work here at Habitat for Humanity East Bay/Silicon Valley would simply not be possible without the hearts and hands of our wonderful volunteers. We have been fortunate to engage a broad community of support, with volunteers joining us from all walks of life. In particular, we benefit from a passionate and active faith community. One of our most dedicated volunteers, Kirk R. Miller, came to us in 2012 through his involvement with St. Andrew's Church.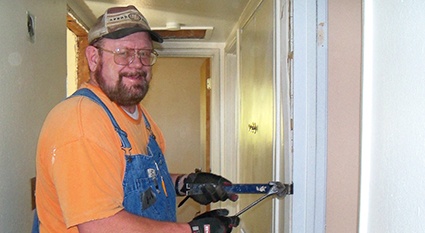 Since his first build day with us, on Cleo Avenue in Cupertino, Kirk has been hooked on Habitat, continuing to come out to build as a part of the Master Build team and participating in All Faiths Build events. "I love contributing my time and efforts to help others," Kirk says, and he hopes that his contribution will help empower homeowners as they maintain their own homes in the future. Kirk's giving heart doesn't stop at move-in either as he helps families install ceiling fans and security storm doors for them free of charge.
Kirk considers it a privilege to work alongside homeowners and fellow volunteers, particularly other members of the extended faith community. "We can contribute together as one team effort," he says. "We can make a difference together!"
Not only has Kirk lent us his skills on the construction site, he has pitched in as a photographer as well! Kirk's talent behind the lens has given us thousands of beautiful images, offering an incredible documentation of families' future homes rising from foundations to rooftops. As a master visual storyteller, Kirk's photographs are not only a meaningful testament to the volunteer experience but they give the future homeowners something to look back on and reflect how Habitat has impacted their lives.
Some of Kirk's favorite Habitat memories have been presenting books of faith to homeowners at Home Dedications and working at the Jimmy Carter Work Project when we hosted in 2013. To anyone considering a volunteer day with Habitat, Kirk issues an enthusiastic welcome: "Stop by, pick up a tool, and join in on the fun!"