"Peek-a-boo!" is not what you usually hear when someone walks into their Habitat home for the first time. But it's a common phrase when someone first steps into a Habitat Playhouse.
"We love our playhouse!" says Ms. Olivia Griswold at Saratoga Community Preschool, recent recipients of a whimsical, child-sized house through our Playhouse Program. Saratoga is a parent-participation developmental school focused on the physical, social, and emotional growth of children, and where play is paramount. In fact, when Ms. Olivia tried to talk to the children about the school's new playhouse, they were too engaged with play to get very philosophical. The playhouse has sparked imaginations, hosting high tea, house parties, and games of peek-a-boo.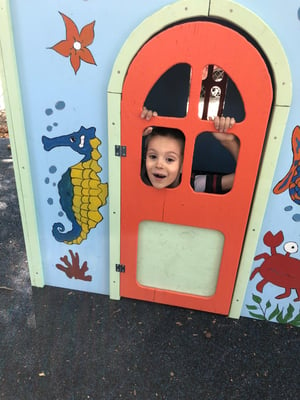 The little ones at Saratoga are just a handful of the hundreds of children each year who receive little houses through Habitat East Bay/Silicon Valley's Playhouse Program.

When people think of volunteering at Habitat, they envision a bustling construction site, but many volunteer with us through a building process on a much smaller scale. Our Playhouse builds give volunteers the chance to do some pint-sized construction – decorating and assembling child-sized playhouses – and at the end of the day, they have the thrill of donating these playhouses to local children.
The Sunny Days Preschool campus of Pacific Autism Center for Education (PACE) also received their own playhouse recently. Karen Kennan, PACE's Assistant Executive Director, loves the way their new playhouse inspires their students, and appreciates the volunteers who built it. "The Habitat for Humanity playhouse built by Western Digital employee volunteers brightens our preschool and kindergarten play yard!" she says. "With 1 in 59 children being diagnosed with autism, the demand for our services on our lower campus is continuing to grow. This playhouse offers a way to explore childhood imagination and bright colors. Our children and teachers adore it!"

We like to think of the Playhouse Program as a win-win-win proposition. It's a great way for companies to give employees a fun, creative day of teambuilding, and it gives a lot of joy to a lot of local kids. On top of all that, Playhouse builds big houses, too. Playhouse builds are sponsored by generous community partners, looking for a way to help their members connect with each other while giving back to the community.

The playhouses at Saratoga and PACE were built by Western Digital volunteers. Western Digital has shown incredible commitment to Habitat through the Playhouse Program over the years, bringing nearly their entire employee base out for Playhouse builds.

There's nothing like seeing a child's eyes widen in delight at the sight of their new playhouse. It's a wonderful gift we're thrilled to give – 471 times in the last year alone. And it really is a gift that keeps on giving – by making affordable homeownership possible for more families through Habitat.
Interested in learning more or getting your company involved? Visit our Company Team Building page for more information!