Despite record-breaking rains, volunteers have been making a lot of progress on our new home construction and home preservation sites!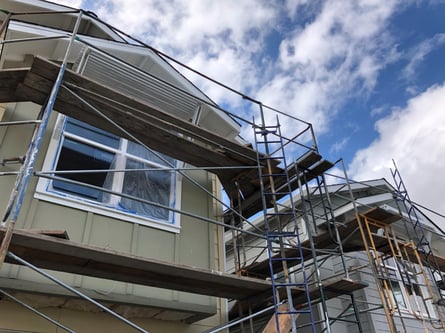 Fremont, Central Commons (30 New Homes): While volunteers take on roofing, others are helping wrap up framing and installing drywall!
Haven't made it out to the Central Commons site yet? Not sure if you can pull off the toolbelt look? Join us for a tour of the construction site on April 8! This is a special volunteer tour honoring Habitat's commitment to Martin Luther King's vision of a "Beloved Community." Click here to learn more.
Martinez, Muir Ridge (20 New Homes): Rain is not holding back our volunteers at Muir Ridge! Volunteers have been busy painting the interiors of this development's last four homes.
Home Preservation: From Fremont to San Jose, volunteers have been helping keep families safe and healthy in their homes by repairing roofs, rebuilding porches, installing flooring, and much more!
ReStore: March means it's time for a good spring cleaning! ReStore is here to pick up your gently used appliances, furniture, and even cabinets from your "goodbye winter" renovation! Schedule your free pick-up today!