The COVID-19 crisis has impacted us all, but among the most vulnerable are older adults and people with respiratory conditions. Long before the pandemic hit, seniors like James and Brenda faced the daily crisis of unsafe housing, living in conditions that compromised their health and their ability to age in place. Now, as they face an order to "shelter in home," James and Brenda have Habitat to thank for a safe place to do just that.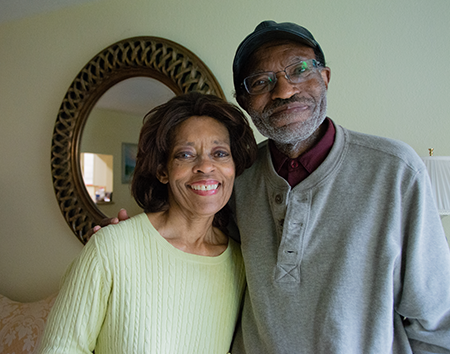 James and Brenda bought their San Leandro condominium after they married 20 years ago. Recently, though, their aging home had presented a health and safety hazard – particularly for James, who lives with chronic asthma, COPD, and sinusitis.
James and Brenda connected with Habitat East Bay/Silicon Valley's Home Preservation Program through Renew Alameda County, a program offering low-interest, deferred payment loans to low-income homeowners to assist with home improvement and repair. Habitat was able to facilitate a full renovation of James and Brenda's home, including installing walk-in tubs and other amenities to make the space more senior-friendly and, critically, replacing an old heating system, window screens, and carpeting that were magnets for dust, dander and allergens – all of which aggravated James's health conditions.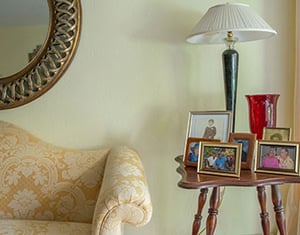 "The repairs done have already made a huge difference in his daily existence," says Brenda, who has observed a steep reduction in her husband's respiratory issues. James now coughs less than before, breathes more easily, experiences less sinus irritation, and feels more energetic. But he is not the only one who benefits from the repairs. Both Brenda and James feel an improved ease and quality of life. "I move from room to room with a smile on my face in gratitude and appreciation," says Brenda.
James agrees, pointing out that without this program, "this could have never been possible. It is like waking up to a new life." He'd like to see other families take advantage of the opportunity, saying, "This program is necessary, amazing, and absolutely essential for the health and safety of aging seniors."
Whether in times of acute crisis – like the current pandemic – or when facing the everyday predicament of an unforgiving housing climate, Habitat is proud to partner with people like James and Brenda. Through Home Preservation, we build stability and safety for families like theirs, a shelter in storms and fair weather. "God sent this program and these people into our lives," Brenda says, "when we most needed it, couldn't afford it, and least expected it!"