Every Habitat family steps on to the construction site with a story. Meet mom and future Habitat homeowner, Julieta, and her daughter, Alexys.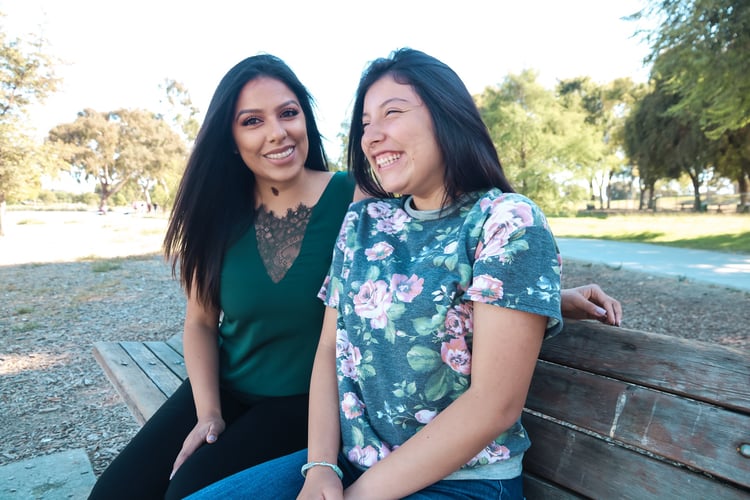 As a South Bay native, Julieta wanted to stay close to her community and her family. And as Alexys approaches high school, finding stability is a priority to Julieta. So, Julieta was ready to take on any challenge to establish a foothold in this extremely difficult housing market.
As Julieta embarked on her search for affordable housing, she worried her only option was to live in dangerous neighborhoods or move out of state. Then she came across Habitat. Although she didn't get approved when first applying for our program, Julieta turned to our free one-on-one Housing Counseling and asked one question that would change her life just a few years later: "What do I need to do?"
After years of preparation – attending financial education workshops, meeting with our housing counselors, and working hard to change her financial outlook – Julieta qualified to purchase a home at Central Commons, our Fremont development. When Julieta got the call that she'd qualified, she was overwhelmed with joy. "I didn't think I was ever going to see myself in this position at this point in time of my life - just how the economy is right now in the Bay Area," Julieta says. "It's really hard to be a homeowner, especially as a single parent."

From sharing a 2-bedroom apartment with 4 other adult family members, to years of working toward affordable homeownership, Julieta and Alexys are anticipating the day they receive the keys to their own place. With space to grow, a quiet area to study, and dreams to fulfill, this mother-daughter duo is ready to continue building every day. Building toward higher education is important to Julieta and Alexys, and with an affordable mortgage, this goal can become a reality for them both.

Julieta is excited about what the future holds, and she knows that a generous community has come together to make this opportunity a reality. "We are all extremely thankful," she says of herself and her future neighbors. "Because without people partnering up and making donations… none of us would be homeowners in this area."

Julieta and Alexys are preparing to move in to a home of their own, and it's possible because of people like you. As you think about the gifts you'll give this holiday season, consider giving a gift that gives back. You can double the impact of your donation and help more families like Julieta's build toward the life they've always dreamed of, thanks to long-time Habitat supporters, the Reed family, who will match gifts dollar for dollar up to $150,000.