When Mary Jackson was first allowed to return to site, the reintroduction was a strange one. In a few months, the place where the 71-year-old Santa Clara resident had regularly volunteered for years had become foreign because of the pandemic.
"We had been so encultured to just stay home," Mary says. "So, the first time I walked back on site… I was like, 'This is weird.'"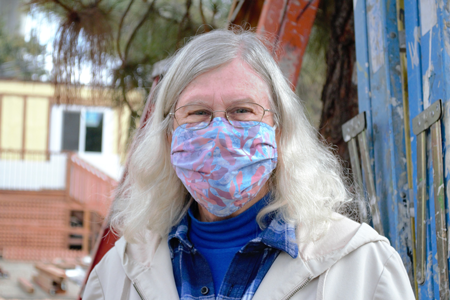 When she did return to build emergency interim housing in San Jose, she was one of a few regular volunteers who had been cleared to come out and work with Habitat staff, under stringent safety protocols. Mary was hesitant. She was nervous about how closely she would be working with others. She thought, "How is this going to work?" But when she got back out to the site on Felipe Avenue, she says that "it felt like, except for the masks, like any other Habitat day."
She quickly fell into a groove. She saw that the site was safe for work with social distancing, masks, handwashing, and tool sanitization stations in place. Also, she felt comfortable being around the other regulars, knowing that they would take proper precautions. After getting comfortable she says, "I was like, 'Yep, this is what we do. We go to work at Habitat, we put our masks on, they check to make sure we're healthy walking onsite and then we get to work.'"
Mary says the biggest difference between pre-pandemic and now is the free lunch. The usual Team Building groups and the catered lunches, and leftovers for regular volunteers, are nowhere to be found these days. "We miss that… when the corporate groups were on site, those were always fun, the occasional pizza, or Panera sandwich or something." She laughs. The other changes are small, she says, like putting a tool on the sanitation table instead of immediately putting it away.
It was not the promise of the outside world that tempted Mary back to site in the first place. She says she's had no trouble following the stay-at-home orders of the last several months. Partially she returned because she'd been a part of this effort to build emergency interim housing – a project that was the first of its kind for Habitat – from the beginning, and wanted to see it until the end. She had spent many afternoons building cabins at the production yard —"I've been working on it since we built the prototypes," she says.
Also, the sense of normalcy she felt working at Habitat was something that drew her back to site. After determining that she wouldn't be putting her health at risk, she made the decision to return. She says, "It's not the same thing, but it was nice to have something that was kind of like the same thing. Something that feels normal."
We're grateful that in this time when our work is more essential than ever, Mary and her fellow volunteers have stepped up to help us build. Mary's efforts mean that our unhoused neighbors have secure, comfortable communities to stay in, with the service and support they need to make a successful transition to permanent housing. If you would like to join Mary and our other volunteers, sign up to volunteer in the Bay Area with Habitat for Humanity!