Like many of our volunteers, Michelle got involved with Habitat through her workplace. As Director of Human Resources with Bosch, Michelle got a taste for volunteerism with Habitat through her company's community involvement– but quickly found that it was more than just a day away from her desk, but a life-changing experience both for the people we serve and for herself.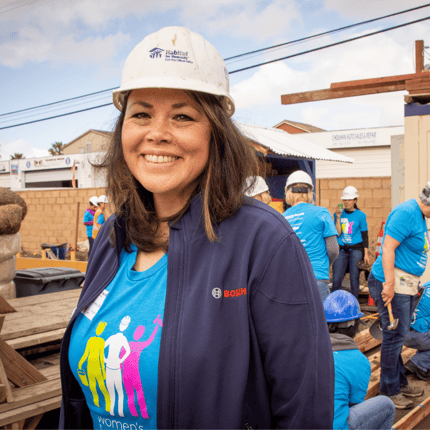 For Michelle, it's knowing that her service empowers others – particularly women – through affordable homeownership. The payoff is deeply personal. "I was raised by a single mother," Michelle explains, "and I was a renter for most of my life. Being able to buy my first house was so meaningful to me and the most important thing we were able to do as a family." She recognizes the hard work that Habitat families put toward the accomplishment of homeownership, and she understands well the incredible impact it can have on a family's life and the fabric of a community. She points out that the stability of affordable homeownership can lead to more opportunities for a family in areas like "education," "career growth," and "long-term financial security." Beyond that family's doorstep, however, Michelle also knows that "homeownership is key to community building… This is how sustained and meaningful change happens."
Michelle has been an enthusiastic part of our work, whether she is building a Playhouse alongside her colleagues, assembling a cycling team for Cycle of Hope, or – her favorite – building with her closest friends at our Women's Leadership Build.
"I look forward to the Women's Leadership Build," Michelle says. "Working with women from all walks of life just feels amazing. Everyone is equal on the build site, and we are all working for a cause because we believe in it. At the end of the day, we can see the progress that was made and know that our sweat equity will pay off for these homeowners a thousand times over."
She feels the reward, too, reveling in "a sense of accomplishment" that she gets at the end of a day of volunteering. "Additionally," she says, "I have met so many remarkable people that I hope I will always have in my life."
For others who might take the Habitat plunge, Michelle warns, "You will be hooked!" Despite busy schedules and competing priorities, Michelle keeps coming back because "time spent working with Habitat for Humanity will give you the opportunity to make a big difference in the lives of others, empower you to try things you might have been afraid to do, and expose you to amazing people."
We're grateful that Michelle is one of those amazing people! If you'd like to learn about the Women's Leadership Build or how to get your own company involved with Habitat, reach out to us!