At Habitat, we know that strong futures begin with strong foundations. Habitat homeowners like Shawntate, along with her three sons, work hard to build those foundations, and they begin with a bedrock of health, safety, and well-being. As Shawntate looks to create a bright future for herself and her children, she knows that these most basic building blocks must be laid down first.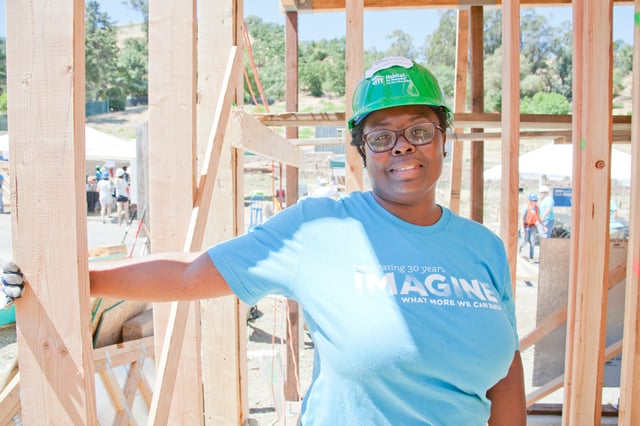 Shawntate is a new homeowner at Muir Ridge, a neighborhood of 20 affordable homes in Martinez. Before moving in at Muir Ridge, Shawntate and her sons lived in their Oakland apartment for 14 years. Mold was spreading through their one small bathroom and Shawntate's bedroom, aggravating the asthma that all four family members have struggled with.
Factors outside their apartment affected their well-being also. Her family's safety was a daily anxiety for Shawntate, but she knew it was time for a change when her youngest son "caught on" that the "fireworks" outside were actually gunshots. "No five-year-old should know what gunshots sound like," Shawntate points out.
Our Social Impact Study shows that Habitat homeowners experience profound improvements in their health, safety, and well-being. Surveyed homeowners reported a near total elimination of health issues like the asthma that plagues Shawntate and her children. Mold and other infestations were also virtually eradicated. Habitat homeowners reported dramatic increases in their sense of their safety, and the overwhelming majority see their homes as a place with room to grow.
And that growth is what Shawntate looks forward to as she and her sons build the next chapter of their lives, as Habitat homeowners. Shawntate is happy to just take a deep breath – literally and figuratively. She relishes "the opportunity to have our own home in a safe community – someplace where we can just have some peace, where I can take my kids on bike rides right in our neighborhood. It's more than I could have dreamed of."