While Mike Heller was working in Silicon Valley 13 years ago, his boss organized a "teambuild" day on our six-home development in Oakley. Mike did more than swing a hammer that day. He learned about Habitat's unique approach to empowering families through homeownership, and by the end of that teambuilding day, he had built more than a house. He'd built a commitment to our mission, and he knew he wanted to continue this dedication into his retirement.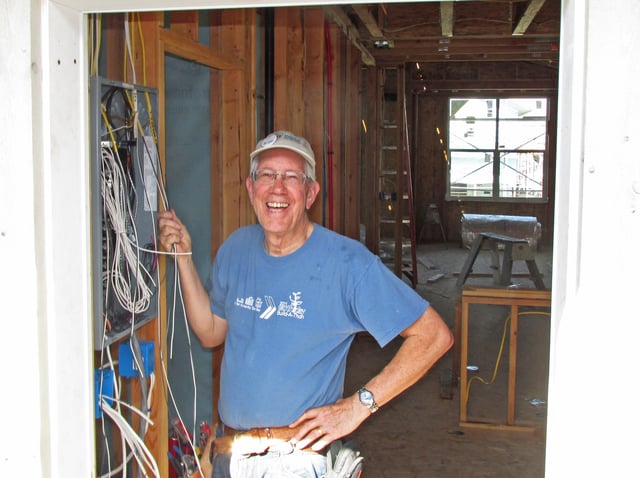 Since that first construction day in 2004, Mike has become a fixture on many more of our developments. He has since become a regular volunteer, working at one build site or another every week. Mike has become a critical part of our electrical work on new houses, but also tackles foundations, framing, windows, flooring, decks, interior trim, kitchen cabinets, and more. So far, Mike has worked at least a day on almost 200 Habitat homes. On top of his contributions to the construction site, Mike is an advocate for Habitat as part of our Speakers' Bureau. By speaking to student groups, rotaries, churches, and more, Mike shares his passion for Habitat and inspires others to get involved.
"I greatly value the opportunity to positively affect people's lives, as happens with families buying the homes Habitat builds," says Mike. "The Habitat operating model, focusing not only on the family's need but on their willingness to truly partner with Habitat, is very appealing to me. Working at Habitat has proven to be a perfect complement to the work I do for my church and its mission partners around the Bay Area."
When Mike is not on site or speaking with groups (or off on a cruise ship traveling around the world with Sandy, his wife of 35 years), he is doing repairs and construction work for his church and, most recently, at the Bay Area Rescue Mission and Police Activities League buildings in Richmond. The many construction skills Mike has acquired at Habitat mean he can take on most of these mission projects without fear.
Thank you, Mike, for your continued dedication to Habitat's mission!