"While I was using the chop saw to finish up from framing for home in Antioch, I noticed the future homeowner standing off in the corner watching," says former Team Leader of Habitat's Women's Crew, Monica Mack. "I asked if she'd like to learn how to use the saw. She said, "No, I like all my fingers." I convinced her to join me, I showed her how to use the saw safely. By the end of the day we were calling out measurements to her and she was making all the cuts. I loved this- teaching and empowering a woman and future homeowner. It was a very, very rewarding experience."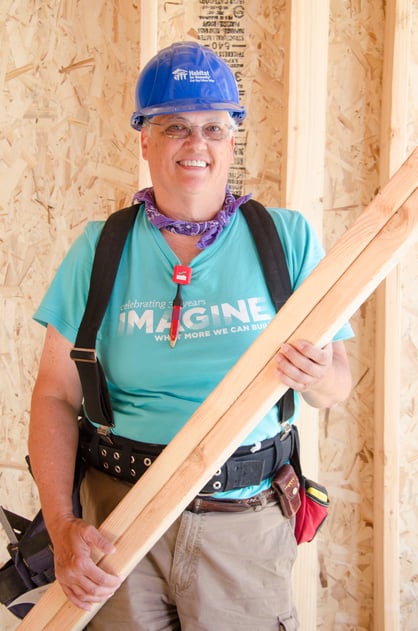 Teaching and empowering Habitat homeowners, helping them reach their dream of homeownership is something Monica Mack does on a regular basis as a Crew Leader on the Women's Build House and member of Habitat's Women's Crew.
For 12 years, Monica has helped shape the lives of Bay Area by volunteering her time to Habitat. In 2003, Monica got involved with Habitat through her church. After participating in three separate Katrina relief trips in New Orleans, she knew she wanted to help others and get involved in Habitat's work on a local level.
"I am blessed to have enough- a safe roof over my head, food in the fridge, and time for leisure activities," says Monica. "I believe I am meant to share these gifts the Lord has given me so I take my time to volunteer. Plus, I love working alongside likeminded individuals and homeowners to help build homes and communities.
Not only is she a vital volunteer on site, but off site Monica is sharing Habitat's work and mission with friends and family as a rockstar fundraiser! This past June, Monica raised more than $2,700 for our Framing Blitz!
Also off site, Monica uses the new skills, knowledge, and confidence she's gained volunteering to do many projects around her own home.
"The Habitat motto of giving 'a hand up, not a hand out' is a philosophy I can get behind," says Monica. "I like the idea that partner families really have to want it, be willing to work for it by putting in sweat equity. It's a huge commitment, just like homeownership."
Monica gives back to her community with Habitat in many ways but the passion she puts into her giving is what really makes the difference. Thanks to generous volunteers like Monica, we are able to empower individuals, build communities, and provide hope for a better future!