"This is land! I'm on the sea, usually, so there's a big difference!" jokes Will Davis of the USS Oakland during a quick break from tying rebar, preparing the way for another new foundation at Esperanza Place. He was part of a group of U.S. Navy sailors who volunteered with Habitat East Bay/Silicon Valley earlier this month during San Jose Navy Week.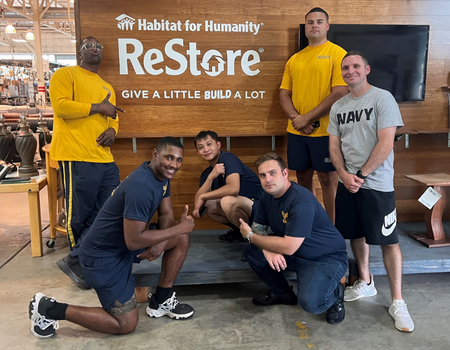 Joking aside, Will continues, "It's great to have it in the back of our mind that we assisted people to get into a home."
It's exactly the sentiment that the Navy was encouraging during the week of community engagement – getting out into the community, spending time among local citizens, and giving back in a meaningful way. At the same time, it offered an opportunity to increase the community's understanding of the Navy, its mission, and how it serves our national security.
"The Navy doesn't really have so much of a big influence out here as we should," pointed out Karee Lattier, Chief Petty Officer on the USS Carl Vinson. "So, we're just coming back and letting them know that, 'Hey, we're the United States Navy, we're here in the Bay Area, and we support you.'"
The chance to make a concrete difference in the community made Habitat the top of the Navy's list for organizations to support during San Jose Navy Week, and they did it in spades, coming out both to Esperanza Place and to our San Jose ReStore over a three-day span. Volunteers were eager to participate in the week of engagement, including sailors from the USS Constitution – the oldest commissioned warship in the world still afloat – as well as Hometown Sailors, the USS California, Navy Meteorology and Oceanography, senior Navy leadership, and more.
"It's nice to be able to make a change in your hometown area or surrounding area," said Trey Perry of the USS Carl Vinson, "because then you feel like you're making an impact where you grew up."
We're grateful for the hard work of the sailors and the U.S. Navy, for what they do every day, and for lending a hand with us!
Check out more about the Navy's volunteerism on site at KRON 4.