On November 3rd, cyclists from all over the Bay Area and beyond will gather for Cycle of Hope, Habitat East Bay/Silicon Valley's first benefit ride. They'll be pedaling for affordable housing, in support of Habitat's work to make homeownership possible for more families in one of the world's toughest housing markets.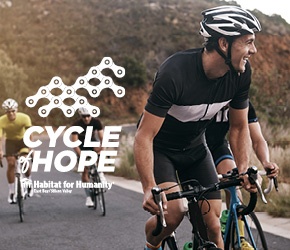 So, our cyclists are riding for much more than medals. But, a fantastic medal at the end of a ride is still a great reward! We're excited to share the design for the 2018 Cycle of Hope finisher's medal, just released! We hope this lights a fire under our registered riders, and gives everyone else yet another reason to get wheels on the ground.

Not that you need more reasons to ride Cycle of Hope. We are pulling out all the stops to make this a five-star event – whether you're bringing a little one out to ride the Kids' Course, cruising the Beginner course, taking on the full Century, or riding one of the routes in between. We'll be offering family-friendly activities, route-side entertainment, fantastic local food and drink, and a finish line festival to remember. Most importantly, we're offering the chance to have a real impact on the housing crisis, and make a difference in the lives of our neighbors and our community.

So, head over to www.HabitatCycleOfHope.org today to get registered!