Ah, summertime. It can mean soaking up sunshine or taking a vacation. It can also be a great opportunity to break up your routine and spend some quality time with great people. Well, if those last two things sound appealing to you, Habitat's got you covered! Read on for three great ways to spend your summer with Habitat - your heart and your community will thank you, and so will we!
Volunteer on a Habitat Construction Site

Nothing brings people together like working toward a common goal. And when that goal is making homeownership affordable for families priced out of the opportunity? Even better.
Volunteer as a Group
A day on the construction site is a fantastic way to build bonds among a team of colleagues, classmates, faithful congregants, and friends and family. It's a day of learning new skills, getting to know each other in a fresh way, and doing good in the community.
Sound like a great way to get the gang together this summer? Fill out this quick inquiry form, and a member of our Team Building crew will reach out to help coordinate your volunteer day!
Volunteer as Part of Our Beloved Community
Volunteering with groups from all walks of life brings together a community - the community we share, the community we aspire to become, the Beloved Community built on justice, love, and equity envisioned by Dr. Martin Luther King, Jr. To celebrate this community, we're hosting monthly Beloved Community Build Days! Similar to annual Beloved Community Build event, these smaller monthly builds will celebrate the diversity of our community while building toward our shared vision of a world where everyone has a decent place to live.
Click here to learn more and sign up your group for a Beloved Community Build Day!
Volunteer on Your Own
Even if you're a free agent, we welcome you to join us on site! Volunteer opportunities for individuals on a Habitat construction site are great ways to meet new people, get involved in your community, and have fun! Click here to check out individual volunteer opportunities with Habitat.
Whether you've got years under your tool belt or you've never lifted a hammer, there's a place for volunteers age 16 and older on a Habitat construction site. No experience is necessary, and we've got all the training and tools you'll need to make a real difference in our community. Plus, you'll still have plenty of time when the day is done to enjoy your long summer evenings!
Build with our Playhouse Program
Playhouse Build events give volunteer groups lots of the same skill-learning, team-bonding, hands-on fun that you'd find on the construction site, but with a few key differences.
For one, these can be done in half a day. Plus, they're scalable, so we can tailor a build for your group whether you've got 10 people or 200. The best part? The location is totally flexible! We can host you in our Oakland or Milpitas workshop, or we can even bring the build to you. And, you'll know at the end of the day that your playhouses are going to some very happy local children.
Sound like just the thing for a fun, creative, and feel-good day with your team? Click here to learn more and sign up.
If you're an individual that wants to support this innovative (and adorable) program that raises critical funds for our mission, we need your help.
When we're not running a build event - we're back in our workshops doing all the woodworking, painting, and prepping to get ready for more! Our Playhouse Prep volunteers learn and practice a wide variety of skills and keep our workshops running smoothly, all while bolstering Habitat's mission. Volunteers aged 16 and up can look for half-day opportunities in Oakland and Milpitas. Click here to learn more and get involved.
ReStore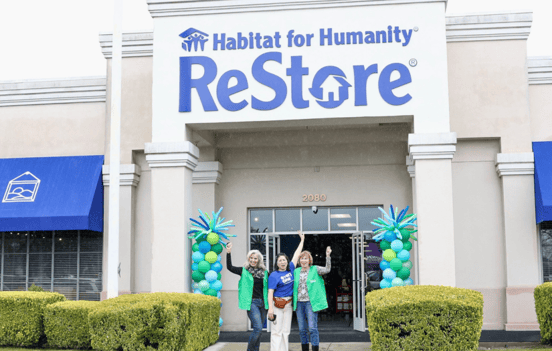 We get it -, you might want to build with Habitat, but you want to take the "building" a little less literally. ReStore - our donation-based home improvement store - has volunteer opportunities for you in Oakland. Concord, and San Jose.
A lot of work goes into making our three ReStore locations run smoothly. Volunteers support our ReStore staff with everything from assisting customers, to stocking shelves, to taking in donations, to creating eye-catching displays.
And of course, it's a great team-building experience, too! Your group can get to know each other in a new way while you help keep our ReStores in tip-top shape - and the proceeds flowing into Habitat's mission. Plus, it's a great way to beat the summer heat while still helping Habitat build more.
We've got half-day and full-day volunteer opportunities for both groups and individuals aged 16+. Check out all the ways you can support the ReStore team here!
However you spend the summer with Habitat, know that the time you give us makes a real difference. By lending a hand during these sunny months, you help ensure a brighter future for our community.