At Habitat, we believe that every hand makes a difference. When we come together as a community, we can build more. And when that community is a gathering of empowered and passionate women, it is unstoppable! This past month proved just that as more than a hundred women builders participated in women-centered building events in Berkeley and Fremont.
"We want to engage women of all skill levels to join their friends, families, and neighbors to build up their communities and volunteer, gaining invaluable skills to bring back and use in their everyday lives," said Janice Jensen, President and CEO of Habitat East Bay/Silicon Valley.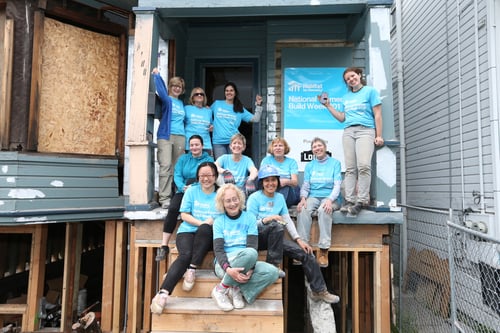 Our Women's Crew, a dedicated group of women volunteers, kicked off National Women's Build Week on May 5th with a build day in Berkeley, sponsored by Lowe's. The women worked on framing and other key tasks to help renovate the home of a Veteran and longtime Berkeley resident. The Women's Crew is a unique way to get involved with Habitat, meet like-minded women from around the Bay Area, and make a difference in the community. Click here to learn more about joining the Crew.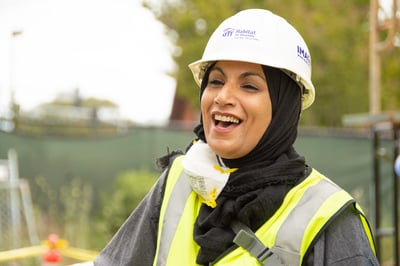 The following morning, more women gathered in Fremont at our 30-home development for Together Women Build, a day dedicated to building homes and building community. The volunteers were women of conscience and a range of faith traditions, and they shared a day focused on collaboration, conversation, empowerment, and unity. While they began the day as strangers, within minutes they made connections based on a shared belief that everyone, regardless of background, deserves a safe and healthy place to call home. Click here to see photos from our Together Women Build event.
We carried on the spirit of National Women Build Week throughout the month with our Women's Leadership Build on May 18th in Fremont. More than 60 women leaders from across the Bay Area came together for a day of building and networking at Central Commons. Among the women were executives from our local business community, Mayor Lily Mei of Fremont, and future Habitat homeowner Yesenia Ramirez. Hosted by our Women's Leadership Council, the Build gave us a great example of how Bay Area corporations can put social responsibility to work by supporting Habitat. The Women's Leadership Council is working on more events and initiatives to give women the chance to make connections and build more support for Habitat. Click here for more information on how you can join them!
Thank you to all the amazing women builders who joined us throughout the month!