Habitat is beyond grateful for our volunteers on any day. Volunteers are the backbone of our organization, serving on our construction sites, in our ReStores and Playhouse workshops, as Board and committee members, in our offices, and beyond! Habitat was founded on the idea of partnership housing, which brought those in need of adequate shelter together with community members to work side-by-side in building those homes—as well as community and hope along the way. No one exemplifies that philosophy of generosity more than our volunteers – particularly our "Regulars" that come back time and time again, becoming valuable extensions of our staff and crew that we rely on.

Our volunteers give so much to Habitat, but we're happy to know they get a little something back in return! Ask any Regular Habitat volunteer what they love about the experience, and chances are you'll get lots of stories. Alongside paint stains, a feeling of community, and the occasional splinter, most volunteers come away with a heartful of memories.
Here are just a few our Regulars have shared with us recently: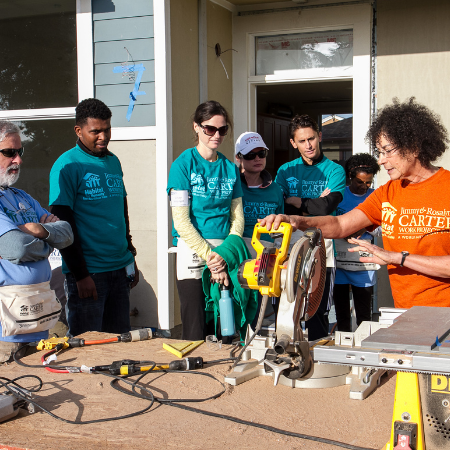 Laura, volunteering on site since 1994:
At a Build-a-Thon, I was the only woman on the crew led by John Lancaster. Before starting the work, he held a little gathering and as part of it asked us to give our names. The guys called out their names, and when it was my turn, for some reason I said my name was "Larry." It just seemed right! They laughed, but from then on they and John, for many years, called me "Larry." I even wrote it across my hardhat and on my name tags. Larry became my Habitat name for many years.
Don, volunteering on site since 2000:
It was cool to work on every stage of the Bridge Housing Communities project, from building the units offsite to working at the site from the time it was an empty, flat lot, until we put in the finishing touches.
Mike, volunteering on site since 2003:
One memory was of the older man buying at house at Edes Avenue who worked as a cook, and was single-handedly raising two little granddaughters – he was working so hard for them, and it inspired me to do the same!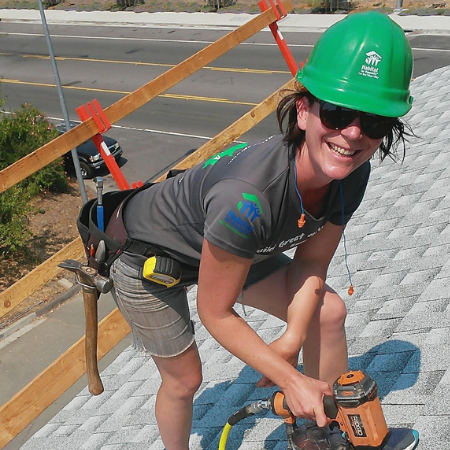 Becky, volunteering on site since 2010:
My first day volunteering with Habitat EBSV was in 2010 at Kinsell Commons. I still remember that Andy Zach was my crew leader that day, and I was installing bird blocks from scaffolding on the second or third story. I remember it was a bit of a struggle to install them. What I didn't realize at the time was that it was the start of a long-term relationship with Habitat! I have so many great memories of volunteering with this affiliate! I always enjoy helping volunteers, especially women volunteers, learn how to use new tools – like one time when we had two petite young women who really wanted to learn how to use a jackhammer to rip out form boards. They were really proud, and I took pictures for them so they could show their friends. One memory that always comes to mind is at a Dedication for our site in Martinez. One of the homeowners spoke about how when she started her sweat equity, she didn't know anything about construction and was nervous about heights. A few months later, she was working on the roof of her own house. She looked down at everything below her and realized how much she had learned, how she had seen her house grow starting at the foundation, and how proud she was of herself. Stories like these always remind me of the value of our work.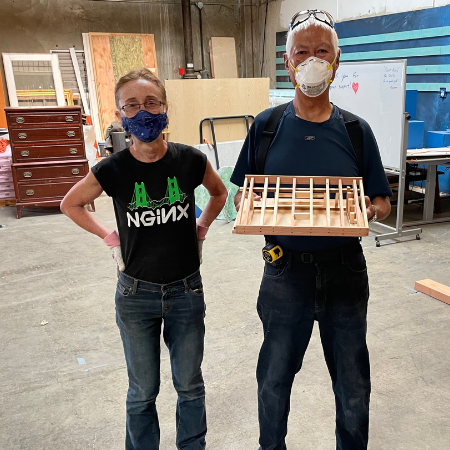 Ted, volunteering with Playhouse since 2015:
My first project with Habitat was building the Love and Peace Recreational Structure with Gus Cancro. The design was a prize winner in an architectural competition, and it showed a lot of imagination and whimsy, so it was a lot of fun to figure out how to build it. I worked alongside two mathematicians – Pat and Laura – who figured out the logistics, and with the excellent workshop at Habitat and Gus' enthusiasm, we had a great time turning out a one-of-a-kind structure. Working alongside volunteers with backgrounds so different than mine is a very enriching experience. Swapping stories and anecdotes at lunch or over coffee is a highlight of my day!
Giulia, volunteering with Playhouse since 2019:
Participating at the Oakland workshop has been a great experience from the beginning, with learning new skills and working with talented staff and with like-minded volunteers. But since the workshop has moved to its new location on San Leandro Street, things have gone into high gear in a very good way! The space for the workshop needed to be spruced up from warehouse to fully functioning wood workshop, which meant all kinds of work from removing gates fixed in the floor to installing LED panels on the ceiling, from building cubbies for the playhouse materials to constructing a roof for the office. I was lucky enough to find myself at the beginning of this process and to work with another volunteer who taught me many new skills and problem-solving approaches. Best of all, as Gus said, there are many more tasks waiting in the queue!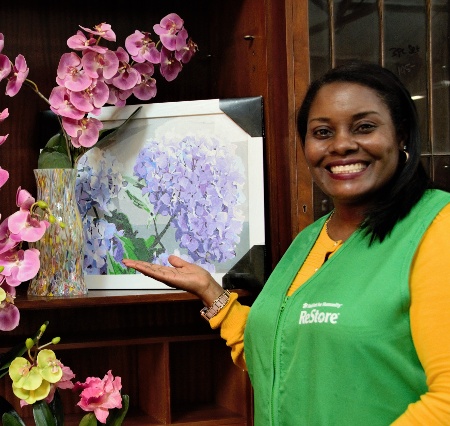 Lolita, volunteering at ReStore since 2022:
I love brightening up the place. You know, we're coming off of a pandemic of two years, and I just want to make it bright and cheerful in here. I also like that ReStore gives back to the community, building houses with Habitat for Humanity. Plus, I love working with the customers and all the interaction. I always bring them back by saying, 'I'll see you tomorrow, and the day after that!'"

We hope you'll make some memories of your own with us. To join our amazing community of volunteers, reach out to our Volunteer Team at Volunteer@HabitatEBSV.org or 510-803-3322.
Habitat Volunteers by the Numbers:
105,000 volunteers have given 1,755,700 hours since our founding in 1986.

Since the start of the pandemic, 2,850 unique volunteers have volunteered 49,389 hours with our affiliate.

Our most active volunteer has served 6,460 hours since 2003 – from Habitat construction sites nearby to sites as far flung as El Salvador and Malawi through our Global Village Program.
Want to make your own memories with us as a Regular volunteer?
Becoming a Regular is easy, and it comes with perks – like flexible scheduling directly with our program staff, lots of opportunities to learn new skills, invitations to appreciation and special events, Habitat swag, and more. All it takes is a commitment of at least 3-6 months, volunteering at least 3 times a month. Just reach out to our Volunteer Team at Volunteer@HabitatEBSV.org or 510-803-3322 to learn more.