At Habitat, we hold volunteers close to our heart. Their generous spirits, selfless hearts, and "can-do" attitudes make our mission of building homes, communities, and hope a reality. Whether giving their time on a Habitat construction site, ReStore, or Playhouse Workshop, or sharing their talents at our office, we are proud to have our volunteers as invaluable additions to our team. Volunteers like Aubrey…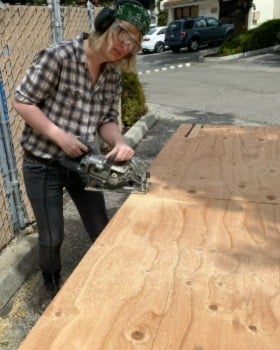 "Volunteering for Habitat for Humanity is fun because I get to work with a passionate group of people who, like me, care about providing affordable housing to those in need," says Aubrey. "It's a fulfilling and rewarding experience to see the progress we make on the homes we're building and know that we're making a positive impact on someone's life."
A volunteer's time is valuable. That is why as part of the Habitat family, we hope to provide volunteers with an experience where they not only make a tangible difference in the lives of Habitat families but also in their own lives.
"The people here are extremely generous with their knowledge," shares Aubrey. "…every time I contribute my time and effort, it is always rewarded with invaluable lessons in practical subjects like woodworking and painting."
Here's what our newest volunteers Caroline and Chris have to say: "I absolutely love volunteering at both the Oakland playhouse workshop and at Esperanza Place. I have learned so much from Gus and Olivia at the workshop and it's been fun building my skills working on all the aspects of the playhouses. The team at Esperanza Place is equally awesome, and I truly appreciate their patience with my slow acclimatization to being up high on scaffolding. It's funny because Habitat came up while I was having a conversation with a friend about things her husband could be doing out in the community. I said, 'He could volunteer with Habitat for Humanity!'' And she said to me, '*You* could volunteer with Habitat for Humanity!' And I'm so glad I did!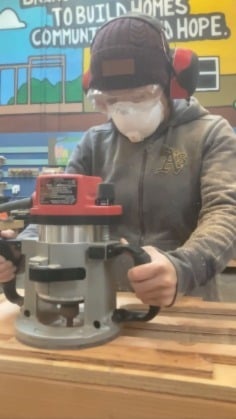 I love being able to do some good while also picking up new skills and meeting new people," says Caroline.
"I moved to the Bay Area from southern California a few weeks after New Year's with the goal of getting a job, any job, in construction. The problem was that I didn't know anything about construction. And it took me about 2 minutes to realize that local contractors weren't going to pay to train a new kid. So, I had to get experience quick! I asked around at Diablo Valley College where I was studying construction management mostly in the evenings, and one instructor told me to check out the local Habitat for Humanity. That night I went online and signed up; literally the next day I was out swinging a hammer at Esperanza Place! For weeks I worked during the weekdays before night classes at DVC. One day I'd be helping with siding, another day I'd be sheathing walls, another I'd be at the table saw all day with Mike cranking out framing millwork for the windows. Every day there I learned a bunch of new things, and over time I saw the project progress toward completion. It was an incredibly formative and rewarding experience! Eventually I found paid work in construction, and I know it was a direct result of all that I was taught at Esperanza Place. I'm grateful to the entire project team – particularly Mike, Gresh, and Jared – for giving me the opportunity to grow and give back with Habitat for Humanity," shares Chris.
Over time, volunteers like Aubrey, Caroline, and Chris become invaluable members of our crew through their continuous support and commitment to volunteer on a regular basis. Not only do they give us so much, but they also receive something in return - wonderful experiences that can't be measured!
Here is what our staff has to say about our volunteers:
Abigail – Volunteer Services Coordinator
"I was a Construction Crew Leader last year and got to see the steady progress we make with our volunteers on site every day. Now, as Volunteer Services Coordinator, it's become even clearer how integral volunteers are to our organization throughout our different programs. The work of our amazing volunteers helps turn our vision for a world where everyone has a decent place to live into a reality."

Gus – Program Manager, Playhouse Program
"Words cannot express how much our dedicated volunteers have enriched my life. Our volunteers are absolutely essential, and they contribute to everything from fabricating playhouse parts, to keeping the workshops well-equipped and running smoothly, to supporting build events that bring in critical funding for our mission. Their wisdom, patience and ongoing support make the Playhouse Program the success that it is today. I am eternally grateful that we have such skilled, dedicated, and generous volunteers we can count on. Our volunteers are our family, and we LOVE them."

Amy - Development Associate
"Our office volunteers are a less publicly visible part of our volunteer group, but they're no less integral to our organization. They help ensure that our donors know about what's going on at Habitat East Bay/Silicon Valley by addressing envelopes, mailing letters, and helping with data cleanup projects. The fact that the entire crew is kind, friendly, and always fun is icing on the cake."

Miranda - Volunteer and Community Programs Manager
"Like the warmth and welcoming environment that volunteers contribute to on-site is really something special. Not only are they building homes but every day that they're out there they're building a lovely, intimate community."
Ben - Sr. Construction Manager
"Volunteers are crucial to Habitat's mission – in many ways, the community they help create IS the mission. I'm profoundly grateful for the help, wisdom, and camaraderie that Regular volunteers and others have shared over the years. Thank you!"

Our organization relies heavily on the support and dedication of volunteers who give their time, energy, and resources to help build and repair homes for families. We greatly appreciate the invaluable contribution of our volunteers and their commitment to our cause.
Habitat Volunteerism Fun Facts:
• For special events like Women's Leadership Build, we've had volunteers from as far away as Portland, New York, and Amsterdam fly in to build with us!
• 108k hours volunteered since 1986.
• 37k hours in 2022 alone.
Want to make your own memories with us as a Regular volunteer?
Becoming a Regular is easy, and it comes with perks – like flexible scheduling directly with our program staff, lots of opportunities to learn new skills, invitations to appreciation and special events, Habitat swag, and more. All it takes is a commitment of at least 3-6 months, volunteering at least 3 times a month. We hope you'll make some memories of your own with us. To join our amazing community of volunteers, reach out to our Volunteer Team at Volunteer@HabitatEBSV.org or 510-803-3322.