Volunteer abroad with Habitat East Bay/Silicon Valley! Join our Global Village team and serve families in Usulután, El Salvador from either June 2 to June 10, June 9 to June 17, or go for both weeks!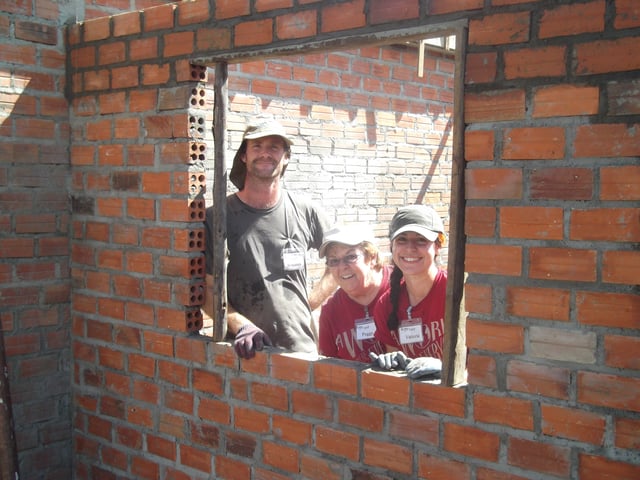 Not sure if travel volunteering is for you? Tori, our Faith & Community Partnerships Manager, is a veteran when it comes to Global Village trips. So, we asked Tori a few questions about her experiences to help you decide is a Global Village trip is right for you!
How is building homes abroad similar to building homes in the Bay Area?
So, I personally have built in Cambodia and El Salvador, and then obviously here in the Bay Area. And there's a lot of similarities to being a volunteer in all of these places in that there is going to be somebody there to help you, who is an expert in whatever you're working on. The actual construction techniques are pretty different. Tying rebar is the one thing that is really similar across all of the different places that we build. Otherwise in El Salvador, you'll be learning concrete blocks- in Cambodia, you learn how to do bricks – and here in the States, we do stick-framing. So that's all so very different.
What are some cultural differences to expect?
It always surprises me how much I don't know whenever I'm traveling. It's hard to pinpoint exactly one thing I thing that surprised me, but I always go in and learn something new. Either about a new language, or new food I've never eaten before. When I'm in a country for a short period of time, I also just learn things about the different towns and cities and historical events in the local areas.
What are some essentials one should pack?
I always like to bring electrolyte powder, because we work in a humid environment and you're working really hard to build a home. It really just helps you feel energized and prevents dehydration. And secondly, I always bring an extra pair of gloves. It's really easy to tear your gloves and there's nothing worse than getting a blister from using your tools and the gloves really protect against that.
What fundraising advice do you have?
My advice is don't be afraid and ask for help if you're not sure what to do – and people will surprise you with their generosity. I always just reach out via email and Facebook to friends and family and I'm always blown away by people who I haven't talked to in a little while who give. And it's also great to use the opportunity of if you have a birthday coming up or there's a holiday that you're celebrating in the next few months; to use as an opportunity to ask people to give to your trip instead of giving you gifts if they usually give you gifts for that occasion, so that's a great strategy for fundraising.
Describe the feeling you have when you're on site.
We are tired and happy! And there's a lot of team work and just feeling that sense of working really hard with people and being exhausted, but happy at the same time - I think is really how I would describe it. And it's a great feeling because you really feel like you work hard and accomplished something.
What are you looking forward to the most?
I'm really looking forward to getting to meet the partner families that we're working alongside and maybe see actually some families that we've worked with in past years – sometimes we're working in the same neighborhoods and getting to meet all of the volunteers that are going to join us. Either new people or getting to spend time the with folks who have joined us in the past for other Global Village trips and getting to spend that time with them as well. And seeing our friends in El Salvador.