You may not have lifted a hammer yet, but you've already made an impact. By looking for a way to give back to your community, you're already part of a movement to make a difference. If you're considering giving back by volunteering your time with Habitat, you're in the right place. Here is what you can expect when you volunteer with Habitat!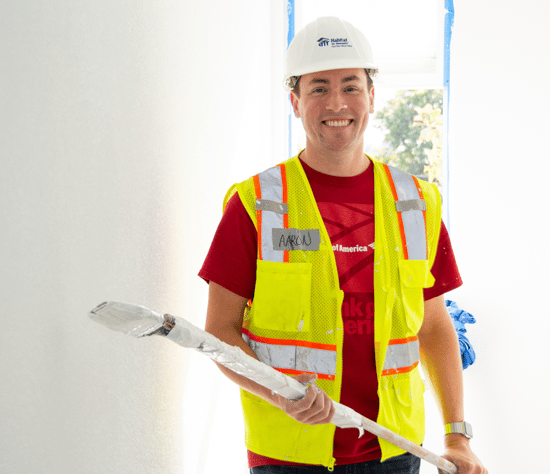 Skills Needed
Since you'll get all the tools, training, and safety equipment you need when you volunteer with us, you don't need much to get started! We're used to working with volunteers of all skill levels – including complete beginners – and we're excited to walk you through the basics of any task at hand. You're welcome to bring your own tools and equipment – though you should label your belongings to be sure they go back home with you.
What to Wear and Bring
You do want to come dressed for a day of work. Sturdy, closed-toed shoes are a must, along with comfortable clothes that you're willing to get dirty. For many volunteers, these are jeans or shorts, an old t-shirt, an old sweatshirt, and sneakers. Layers and sun protection are essential to keep you prepared and protected for changes in weather.
Other than yourself – dressed for action – you'll likely want to bring a water bottle and a lunch. Outside of special circumstances, lunch is not provided, so you should be prepared with your own lunch, or to purchase lunch nearby. Options for purchasing lunch nearby vary from site to site, so a sack lunch is your best bet for getting recharged on a short lunch break.
How long is a volunteer day?
Please stay for the full shift you've signed up for – we have both full- and half-day shifts available, depending on the location at which you're volunteering. When you arrive, you'll get signed in, and the day will begin with an orientation. It's a chance to learn a bit about Habitat, as well as important information about staying safe during your volunteer day. You'll also learn about the tasks for the day. Once you're assigned to a task, you'll get detailed instructions so that you're all set to have a productive day of volunteering.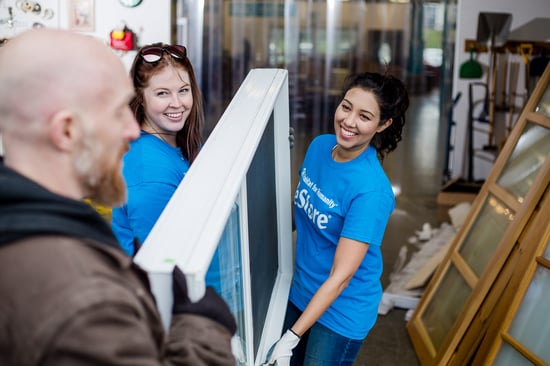 Rain or Shine – Sometimes
Construction may close due to rain – particularly heavy rain – so if you see showers the morning of your volunteer day, give our rain line a call after 7am that day. You can reach the rain line at (510) 251-6304 and follow prompt #7. The message will let you know if site is closed due to rain; if you hear no mention of the weather, you're clear to volunteer! Rain does not affect volunteer shifts at our workshops or ReStores.
A Warm Welcome!
Our staff loves working with new volunteers, and getting the chance to bring people in to our work at Habitat in a meaningful way.
"I hope that when someone walks away from their first volunteer day with us, they feel like they've done something real and important, and they know that their time made a real impact on real families," says Ben Grubb, our Senior Construction Manager, who has shepherded thousands of volunteers through their first day on our construction site.
"I want them to enjoy their time at the ReStore and learn about other ways they can contribute to the community," says Veronika Altangerel, Logistics Manager for our ReStores, "and to be excited about doing another day with us!"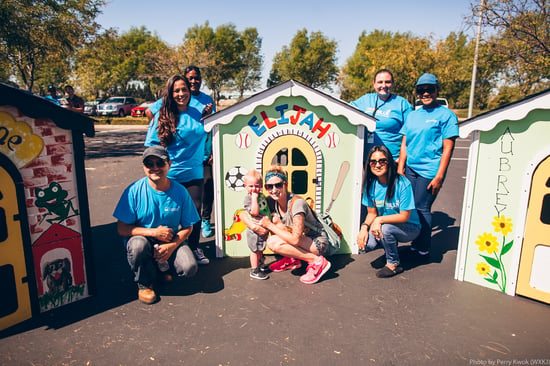 Larry Edson, our Playhouse Program Manager, wants a new volunteer who leaves his Milpitas workshop to "develop a lasting connection that will keep them coming back for more," along with "a passion that helps them grow as a person," and "a deeper understanding of housing issues."
Gus Cancro, who runs our Playhouse workshop in Oakland, adds that he'd like his volunteers to "feel a sense of accomplishment and hopefully learn or hone important skills."
We hope that you'll feel all of these things when you put in a day with Habitat. Most of all, we hope that you'll feel the change you've created by giving your time. The housing crisis is a serious challenge. But with the help of our volunteers and supporters, we can – day by day – create a world where everyone has a decent place to live.
Interested in volunteering? See our volunteer opportunities here. For more questions and answers, click here.