At Habitat for Humanity, we have seen firsthand how homeownership impacts the lives of the families we serve. It's a long-lasting, life-changing kind of impact Habitat families experience as homeowners. And homeownership doesn't just transform a family's health, educational outcomes, and ability to build toward the future; homeownership transforms entire communities.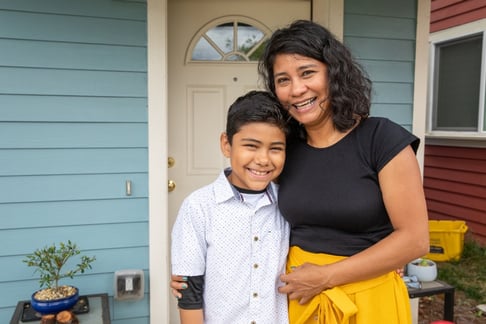 However, here in California, the transformative power of affordable homeownership feels like a farfetched idea for too many families. In fact, one in five households in California currently spend half or more of their income on housing.
How do we turn the farfetched idea of homeownership into a reality for more families? The first step is to understand who currently has access to homeownership and what factors play a role.
Habitat for Humanity International's "Why Home Matters" series explores this complex question in their "Who has access to homeownership?" evidence brief. This evidence brief explores why half of U.S. adults – particularly Black and Hispanic/Latinx households – face barriers to homeownership, what those barriers are, and how Habitat for Humanity affiliates use our mission, work, and voice as a platform for change.
This evidence brief series is a great reminder of why it is critical to break down these barriers and create more opportunity, as we do through our Homeownership, Home Preservation, and Housing Counseling programs. Through our work, we increase housing supply and access and, in turn, the long-term economic success of people and communities.
Click here to read the "Who has access to homeownership?" evidence brief.
The evidence brief includes:
Research on trends in homeownership and barriers to achieving it.
An overview of the racial gap in homeownership, including key drivers.
Ways that Habitat for Humanity increases access to homeownership.