Learn more
Playhouse Program
What is the Playhouse Program?
Habitat for Humanity East Bay/Silicon Valley's Playhouse Program is a unique volunteer opportunity that gives groups and individuals a meaningful, creative, and hands-on day of building playhouses that are then donated to local children. The funds raised through the Playhouse Program support Habitat's mission of building homes, communities, and hope

They might be little houses, but the Playhouse Program makes a huge impact. It's grown from building 20 playhouses in 2009, to a major operation that donated over 500 playhouses and raised over a million dollars last year!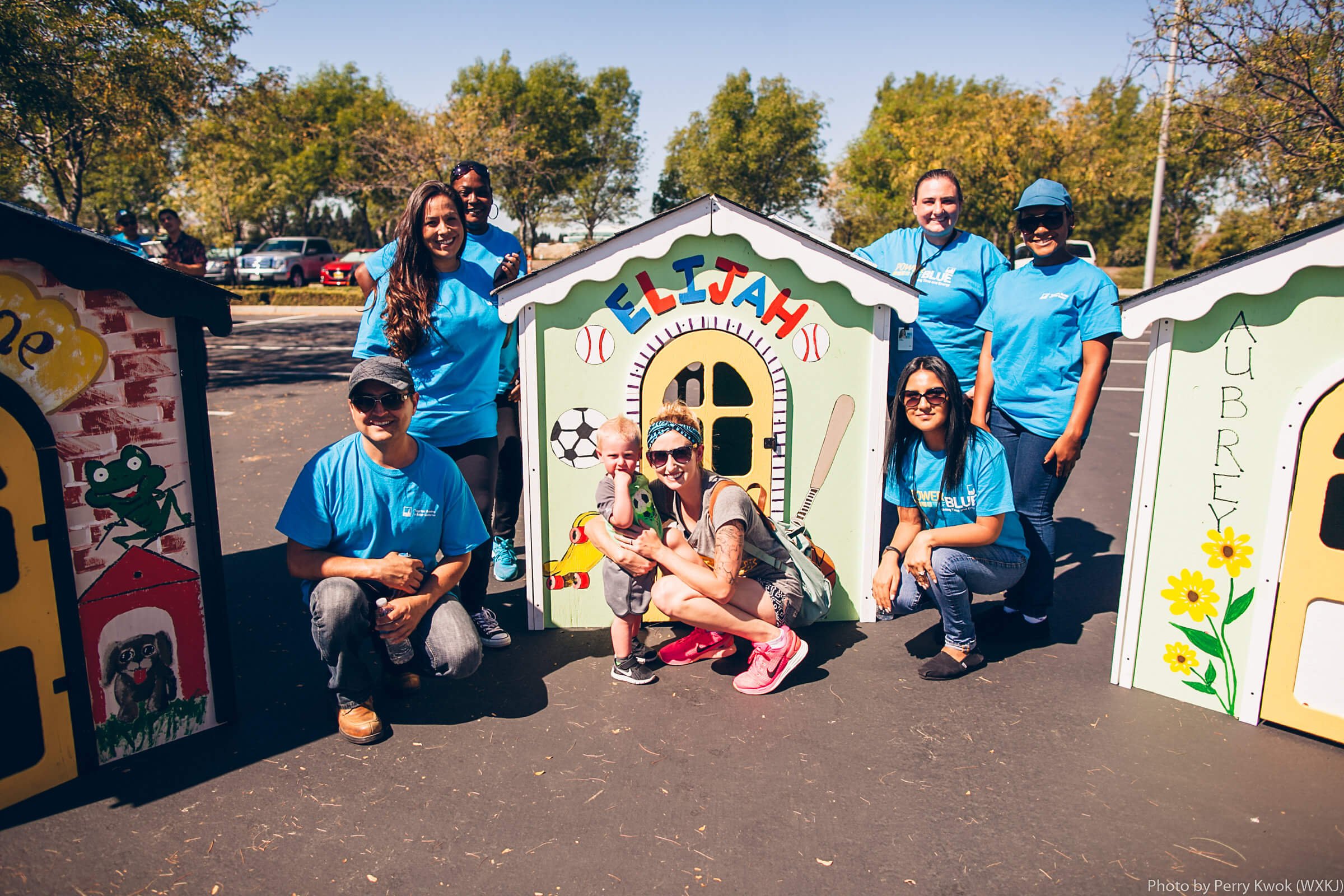 CORPORATE & TEAM OPPORTUNITIES
Sponsoring a Playhouse Build is an easy way to engage with your employees, boost company morale, and build your corporate social responsibility standards. To sponsor a build, companies make a minimum donation of $3,000 per playhouse to support the cost of your group's build day and benefit Habitat's affordable homeownership programs and services.
Sponsoring companies work directly with Habitat staff to customize their build experience with options such as:
Schedule – Flexible scheduling with half- and full-day options available seven days a week.
Location – Come to one of our workshops in Milpitas or Oakland or we could come to you at a location of your choosing.
Size – We accommodate groups small and large (and yes, even extra-large!)
Skill Level – Inclusive to all skills and abilities with a variety of tasks to choose from such as painting, cutting, and assembly, with our professional staff to guide you throughout the process.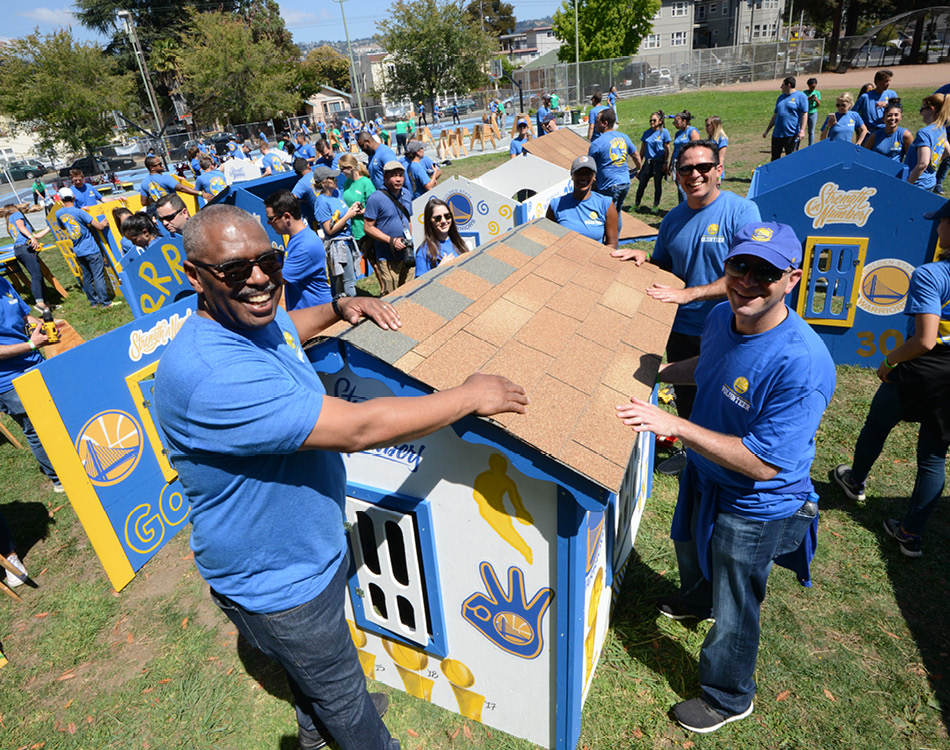 SCHOOL, FAITH & COMMUNITY GROUP OPPORTUNITIES
The Playhouse Program offers volunteer opportunities for faith, community, and school groups of all ages and sizes! Hosting a Playhouse Build is a great way to give back to your community and connect with your friends, family, club, or faith community in a fun, hands-on activity.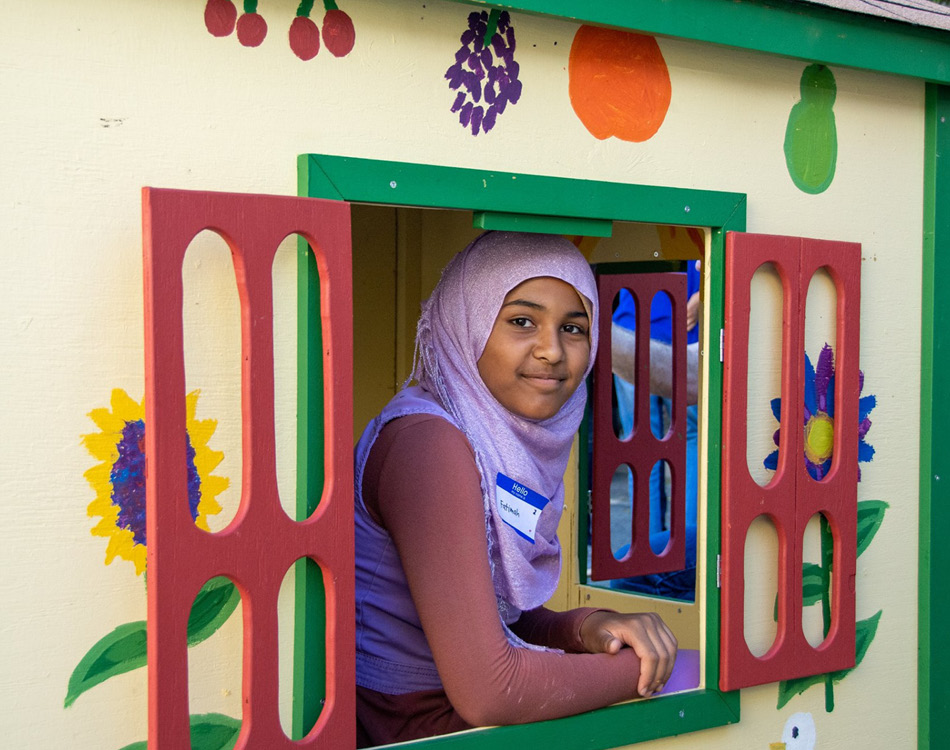 INDIVIDUAL OPPORTUNITIES
While Playhouse Build days require a donation, there are ways to get involved without a donation for individuals or small groups such as Playhouse Prep Volunteers or Event Crew Leaders.
The opportunities listed below are perfect for those looking to make a difference with Habitat on their own time. With two locations to choose from, volunteering with the Playhouse Program is easy.

Prep Volunteers
Volunteers age 16 and older are needed in our Playhouse workshops to turn raw plywood into the ingredients for an adorable little house. From learning how to machine cut to base painting pieces, Prep Volunteers have the opportunity to learn about woodworking, tools, painting, and more!
If you would like to schedule a prep day for a group of 5 to 8, please fill out our Playhouse Build form. Please note that most Playhouse Prep shifts can only accommodate 5-8 volunteers per shift and are scheduled up to 4 weeks out.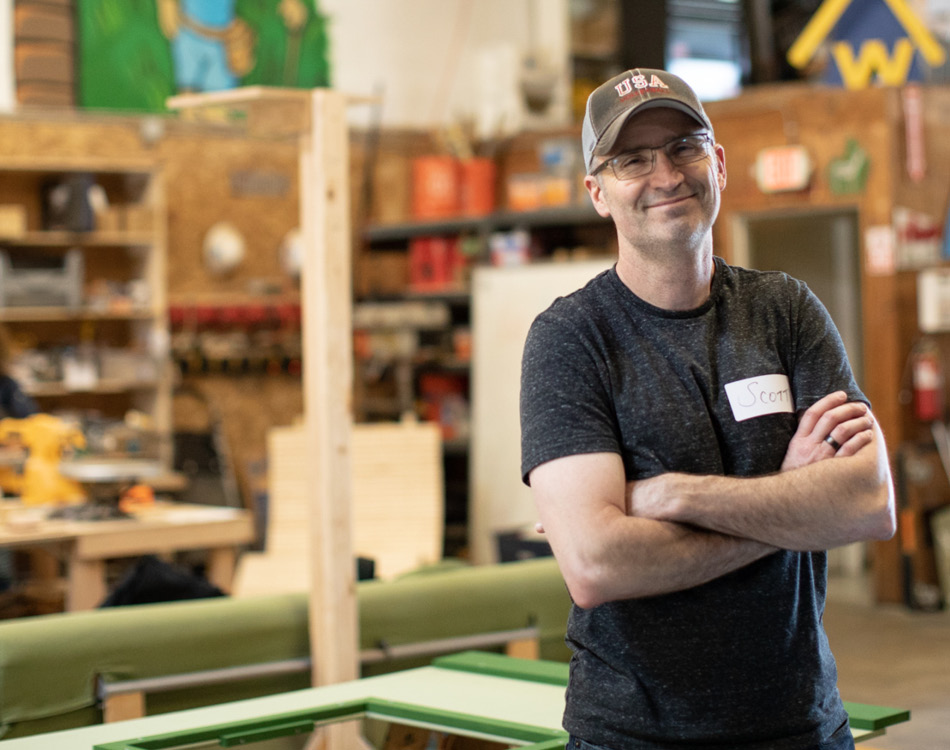 Event Crew Lead Volunteers
Event Crew Leaders assist in setup, volunteer direction, clean up, and staff support at Playhouse Build events. This is a great opportunity for someone looking to improve leadership skills while guiding groups as they build one-of-a-kind playhouses for children!

Here is how you get started as a Playhouse Event Crew Leader:
Volunteer- Sign up for a prep volunteer shift at either the Milpitas Workshop or Oakland Workshop and let the Playhouse Staff know you would like to learn more about becoming an Event Crew Leader.
Attend a small Playhouse Build- Check in with Playhouse staff about volunteering at an upcoming Playhouse Build. At the build, help facilitate and learn about being a Crew Leader. Repeat as necessary until fully trained and set to help at a large build.
Become a Crew Leader- You will be added to the Playhouse email list to receive updates about upcoming Playhouse Builds and events. From there, you can sign up to Crew Lead at Playhouse Builds directly with Playhouse staff!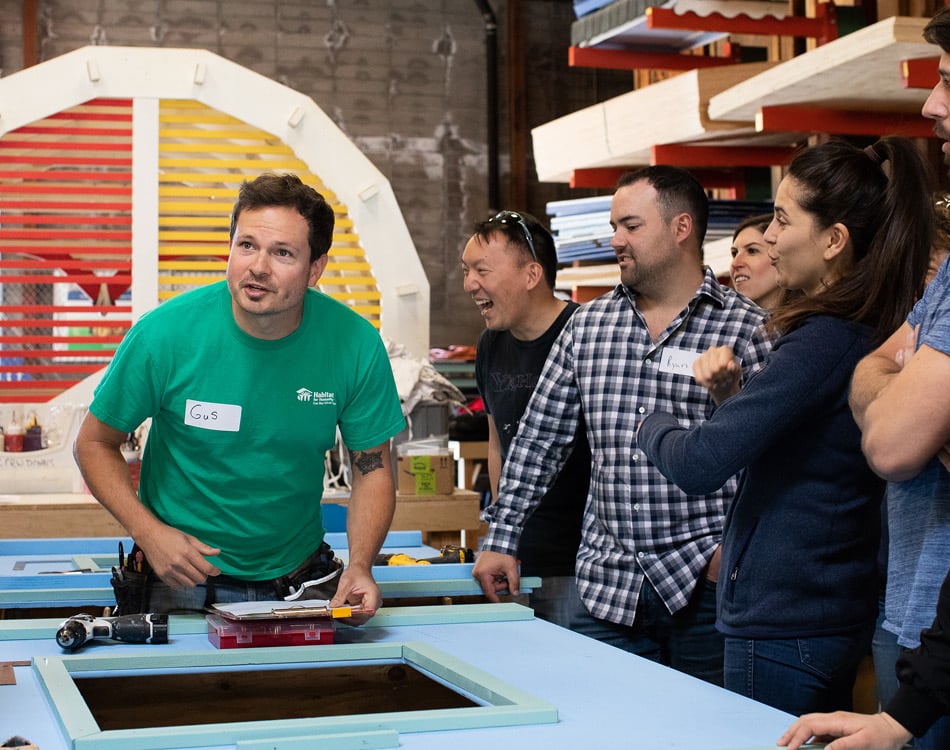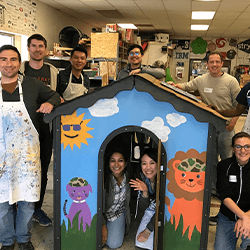 Frequently Asked Questions
What kinds of groups can build a playhouse?

Groups of any kind can sponsor a Playhouse Build: corporate groups, faith communities, schools, groups of friends, and the list goes on!

Groups of any size can sponsor a Playhouse Build. It takes about 10 volunteers to complete one playhouse from start to finish, so the more, the better!

Fill out our Playhouse Build form below to get started!


Why do you ask for a donation?

Teams contribute a tax-deductible donation (based on the size of your group) to offset the cost of materials and supervision, and to benefit Habitat for Humanity's homeownership programs and services. This support directly benefits our new affordable home developments and allows us to provide affordable housing opportunities to families with limited incomes.



Do I need building experience?

No experience is necessary! Our staff loves to teach volunteers of any skill level everything they need to know. Whether you are new to a toolbox, an experienced carpenter, or somewhere in between, a volunteer day with Playhouse means learning new skills, having fun, and supporting affordable housing!
What work goes into building a playhouse?

To build a playhouse, we start with the wood components that have been primed and prep for your build day. Groups are divided into teams to work on roofing, carpentry, and painting. Our playhouses are donated at the end of a build, and the recipient children choose their own themes. So, after the roofing and carpentry are complete, everyone comes together to paint and customize the playhouse of a child's dream.
Where do you build the playhouses?

Playhouse Prep volunteers always help prepare the playhouse's parts at one of our workshops in Oakland or Milpitas.

Playhouse Builds can take place in our Milpitas or Oakland workshop or the location of the group's choosing. We have built playhouses in parks, parking lots, office buildings, office lobbies, courtyards, and more!
When can I schedule a Playhouse Build?

Playhouse Builds can be scheduled any day of the week throughout the year and can be scheduled months in advance. Reach out today to schedule your Playhouse Build by filling out the Playhouse form below!
When are Playhouse Prep volunteer opportunities available?

Playhouse Prep Volunteer days vary depending on our Playhouse Build schedule. Playhouse Prep days are scheduled at our Milpitas or Oakland workshop and align with scheduled Playhouse Builds (usually 2-4 weeks prior to a Playhouse Build).

Check out our currently scheduled Playhouse Prep: Click here for our Milpitas Workshop schedule. Click here for our Oakland Workshop schedule.
RECEIVE A PLAYHOUSE
Playhouses are built with love for children to explore, play, and grow with a space of their own. We donate playhouses to local nonprofits and families such as South Bay Blue Star Moms. To learn more about receiving a playhouse, click here.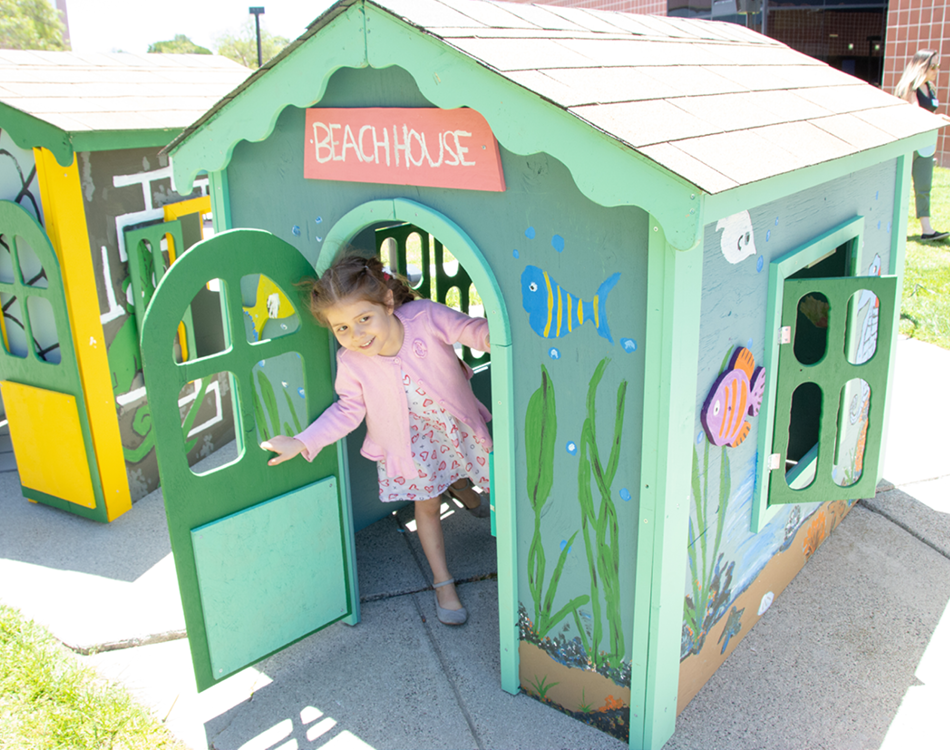 SIGN UP & BUILD WITH US!
Complete the Playhouse Build Inquiry Form below, and a member of our staff will be in touch to help you get started planning your volunteer day with our Playhouse Program!
Cycle of Hope

Cycle of Hope brings hundreds of cyclists, volunteers, and fundraisers together to raise awareness and funds to benefit and celebrate Habitat for Humanity's work right here in the Bay Area. Learn more!

Housing & Equity Townhall

Join us for a conversation about housing and equity with guest speakers and co-authors Richard and Leah Rothstein.
A Sincere Thank You To
Our Sponsors
Stay in the know
GET VOLUNTEER UPDATES!
Sign up for Hammering Home, Habitat for Humanity East Bay/Silicon Valley's monthly volunteer newsletter, to stay updated on all ways to get involved at Habitat!