At Habitat, we're surrounded by heroes. They're usually wearing toolbelts instead of capes, or navigating a database rather than a villain's lair. Nonetheless, we see our volunteers' efforts, in all their myriad forms, as heroic acts. That's because when faced with a daunting housing crisis, our volunteers choose action.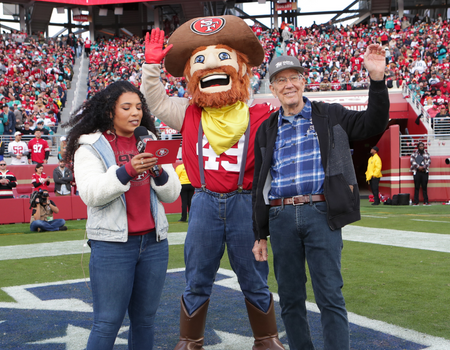 One of these heroes in our book is Mike Heller, a regular volunteer who has been giving thousands of hours of his time to Habitat for close to two decades. And while Mike doesn't do it for the kudos, we sure love it when he can get some recognition for all his hard work. That's just what the San Francisco 49ers did at their recent home game victory over the Miami Dolphins – in the form of about 70,000 cheering fans!
The 49ers organization honored Mike as a part of their Frontline Hero of the Game program. Rena Abu-Gharbiyeh, the 49ers' Community Relations Coordinator, says that the program was originally conceived to "honor our country's active-duty military members and veterans through an in-game segment called Hometown Heroes." The COVID-19 pandemic brought about a shift, however, resulting in what is now known as the Frontline Heroes of the Game, designed "to highlight all individuals who provide essential services to the Bay Area community and beyond. Each home game, the 49ers recognize individuals who uplift the community, to share our team's appreciation for the essential resources or services they provide to our local communities."
For the 49ers, Mike stood out because of "his commitment to use his expertise and skill set" in his volunteerism with Habitat, and that "it was evident that Mike goes above and beyond for his community." Whether it was the over 200 Habitat homes he has worked on, or his generosity in teaching electrical skills to AmeriCorps members and fellow volunteers, or at times commuting two hours each way to get to site – "With his impressive resume," Rena says, "our team knew he would be a deserving individual to highlight as our Frontline Hero of the Game."
We couldn't agree more. Emma, one of our Volunteer Coordinators, nominated Mike for recognition because she has seen, firsthand, what Mike does for Habitat in her two years as an AmeriCorps member with us. She has watched Mike use his electrical expertise to establish the power at our sites that we need to get started building, and carrying that forward to help design electrical plans and impart those skills to others – something Emma herself gratefully benefited from.
"I have always loved building but have felt very timid around anything electrical," Emma says. "One day, Mike came out to one of our renovations, and he had typed up a whole lesson plan/electrical 101 booklet, and he taught us AmeriCorps the basics about electrical work. We then got to help Mike do the electrical for the whole house. Mike easily could have wired the whole house himself with a lot fewer mistakes to correct, but instead he took the time to break down something that I personally thought was daunting, and he showed me that it was doable."
This kind of generosity and knowledge-sharing, to Emma, "speak to what is possible when a community comes together, and how beneficial mutual support is."
That Mike chooses to volunteer with us was an added bonus for the 49ers, who have their own commitment to Habitat. "The 49ers have supported the work of Habitat for Humanity for many years," Rena points out. From building playhouses with us in 2015, to bringing out office staff and rookie players to build at Central Commons in Fremont in 2018, and then returning to the completed neighborhood in December of 2020 to have Sourdough Sam deliver gifts to all 30 new homeowners – the organization has been eager to get behind Habitat's mission. "As an organization based in the San Francisco Bay Area," Rena says, "we understand the challenges that families are facing to secure affordable housing. Our team is grateful for organizations like Habitat for Humanity who are driven to eliminate the barriers that communities face in finding stable housing that they can call home."
While even throngs of cheering fans can't say it loudly enough, we are so grateful for Mike and all of our incredible volunteers and supporters. And we're grateful for organizations like the San Francisco 49ers for recognizing the vital contributions we see every day in our communities.
Want to catch a glimpse of Mike at our construction site? Take a look at the volunteer opportunities we have available here!