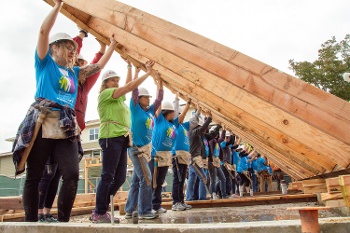 Feeling the urge to connect?
Community is at our core here at Habitat for Humanity – bringing the community together to build a better future.
But it's for the community that we now hold ourselves apart. With the COVID-19 pandemic on the rise, we've followed shelter-in-place guidelines and CDC recommendations, suspending volunteerism and closing our offices. Read our Response to COVID-19 here.
We stand with our neighbors (six feet apart, of course) in solidarity, distancing ourselves from friends and family for the well-being of our community. But we are human, and isolating ourselves from the world can become draining.
So, here are 5 ways to feel united while we're spending time apart:
Call friends and family
While we may be physically separated, many of us are in the same boat. Together, we face uncertainties, and we're connected by many of the same emotions. This is a great time to reach out and connect with each other, offering presence even in our isolation. Take this time to call or video chat with people to stay connected, or reconnect with people you haven't spoken to in a while. Set up virtual family chats or hangouts with friends through platforms like Houseparty or Zoom. Check in on a neighbor who lives alone, a grandparent craving connection. Our voices hold a lot of power, and simply saying hello can make someone's day.


Be a great neighbor
Our site and workshops may be closed to volunteers, but you can still pitch in and serve your community at a distance. It can be a simple act like purchasing groceries and picking up medications for an at-risk neighbor and leaving them on their doorstep. Start a neighborhood email list to facilitate communication, and give your neighbors a chance to volunteer or ask for help. Or organize a singalong on your block like our Habitat staffer, Patti, did with her children in Berkeley.



"My neighbors and I loved seeing each other again, even from a distance," says Patti. "And it was an opportunity to show my children how vital community is, especially in times of crisis."
Share your random acts of community with us on Facebook using the hashtag #ShelterInHope.
Support organizations helping your community members
In his response to the COVID-19 pandemic

, Habitat for Humanity International's CEO, Jonathan Reckford, reflects, "This should be a world where we recognize that we are all connected, where we act in solidarity in times of crisis." A moment like this calls on us to pull together, and find ways to be of help to those around us. At Habitat East Bay/Silicon Valley, we continue to work toward a world where everyone has a decent place to live – a necessity made all too clear as we're told to shelter at home. Your support will help us serve vulnerable populations that are hit the hardest in times like this.
There are many other organizations working on the front lines of this crisis as well. Now is the time to support this work. Nothing keeps us connected like reaching a hand toward our neighbors. Click here to hear "The Best Ways to Give to Charity During the Coronavirus Crisis" from NPR.
Help count everyone
Every person in the community matters, so every person needs to be counted in the 2020 Census

. When you complete the Census, you're letting Congress know who lives in our communities, and ensuring that we're well represented in our government. Census results decide how many Members of Congress represent our communities, as well as how much federal funding we receive on a state and local level to help fund necessities like education, healthcare, and, yes, housing.
Click here read the top 7 things to know about the 2020 Census
Connect through clutter
Believe it or not, even your clutter can connect you to your community! As you're sheltering at home, you might find yourself reevaluating your belongings. Well, now is the perfect time to go through it all – organize that storage unit, clean out that closet, retire that end table – and use that clutter to pay it forward! Our ReStore locations in Oakland, San Jose, and Concord updated hours to drop-off

your gently used furniture, home décor, and appliances – and turn your clutter into some real community benefit. Not only will you feel fresh-start good, you'll also know that your donation avoided the landfill AND helped Habitat build more affordable housing in your community!