Just like the weather, things are heating up on our construction sites in Fremont, Martinez, San Jose, and, now, Berkeley. Check out the progress our community of volunteers has made this past month!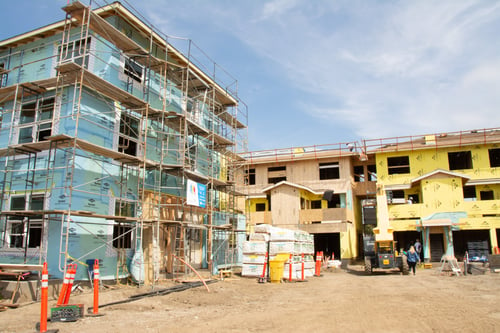 Fremont, Central Commons (30 New Homes): This 30-home development in Fremont got some woman power on site this month during our Together Women Build event and our Women's Leadership Build – two special volunteer days focused on empowering women to come together and build a difference through housing! Volunteers throughout May stayed busy with roofing, installing insulation, and prepping drywall.
Martinez, Muir Ridge (20 New Homes): The last four homes of this 20-home development are almost complete! Volunteers are installing stair handrails, shelves, interior trim, porch soffits, decks, and stairs to prepare these homes for move-in day!
Home Preservation: With sunny weather on the horizon, Home Preservation projects will be helping beautify neighborhoods throughout our service area with a fresh coat of paint!
Berkeley (1911 Harmon St, 1 Home Renovation): In our latest partnership with the City of Berkeley, Habitat volunteers are helping to renovate the home of a Veteran and longtime Berkeley resident. With foundation work complete, framing is on the top of the to-do list!
ReStore: Hunting for Memorial Day deals? Check out ReStore for a special Memorial Day sale offer!