When we think about the holiday season, nothing makes us feel more festive than bringing people together under one roof and celebrating the joy of family and community. We celebrate you – our family and community – and not only during this time of year, but all year long! See all you have accomplished in this year's 2019 celebration video and read about the impact it's had on the progress of our construction sites: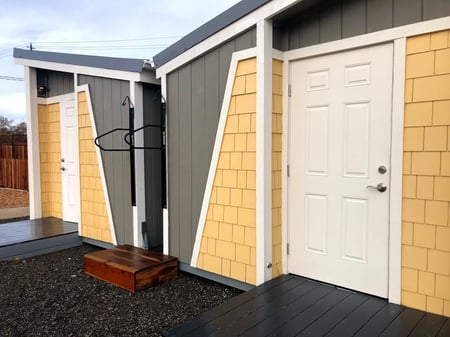 Fremont (Central Commons – 30 new homes, 2nd phase): Rain is not stopping our progress on getting the last 19 homes of Central Commons ready for move-in in 2020. To prepare these new affordable homes in Fremont for their future homeowners, volunteers are working on roofing shingles, framing chases around heating ducts, and loads of painting! Winter volunteers are needed to help us meet our move-in ready goal! Click here to learn more.
San Jose (Bridge Housing Communities – 1590 Las Plumas, San Jose): At our Bridge Housing Communities assembly site, we're working on installing interior trim. At the Bridge Housing Communities installation site, we've been completing the last few cabins to get them ready for move-in for the rainy season. This includes low-voltage deck lighting, drywall, exterior trim, exterior benches, and T111 skirting.
Don't let the rainy weather stop you from joining us on our construction sites. Check out the volunteer opportunities we have available by clicking here.