The sounds of construction are in the air, which means a busy summer is ahead of Habitat for Humanity staff and volunteers! See what the team has been up to as we build more affordable housing throughout the Bay Area!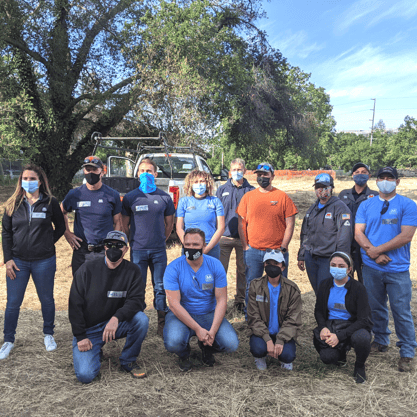 Oakland (Manila Avenue): After this single-family home passed both its electrical and plumbing rough inspections, volunteers put in insulation, completed roofing, and finished exterior trim! Next up, volunteers will be hanging drywall and getting ready to install interior trim.
San Jose (Guanacaste Ct.): Habitat staff and our small but mighty group of regular volunteers are finishing up installing drywall and window trim and getting ready to give this condo renovation a fresh coast of paint!
Walnut Creek (Esperanza Place): Esperanza Place, our new 42-home development in Walnut Creek, saw some of its first visitors this month! Our friends at Marathon helped clear underbrush, spread mulch, and put some protective fencing around trees we'll be preserving on site. Next up, environmental remediation! Volunteer opportunities with Habitat in Walnut Creek may be minimal and limited until we get to put a shovel in the ground, but if you're interested in getting involved in the construction of this new site, click here for our updated calendar.
The wellness of our Habitat staff and volunteers remains our top priority, so volunteers can expect to continue to see our health and safety guidelines enforced, and a limited number of volunteer spots available for each site.
Stay updated on these volunteer opportunities by following @HabitatEBSV on Facebook and Twitter and @Habitat_EBSV on Instagram!