November may be our favorite time of year at Habitat. It's a time where we all reflect and give thanks for those in our lives. For us, we think about you - our Habitat community of volunteers, homeowners, donors, and advocates. Your support gives us so much to be thankful for, like making these construction updates possible!
Here is the progress your support helped build this November:
Oakland - Renovations: Last month, we shared the first home of this two-home renovation was completed. Now, Kiet and his family are getting ready to make this house their home when they move in early December - just in time for the holidays!
Next door, we're getting ready for some BIG renovations, like converting this three-bedroom home into a four-bedroom home! We expect to have permits finalized in December and be ready to welcome volunteers in January!
Walnut Creek - New Home Development, Esperanza Place:
Site plans = Done!
Site remediation = Done!
Groundbreaking Ceremony = Done!

A lot has gone into getting this 42-home development ready for construction, but we're officially starting site work later this month! This means we're still on track to welcome volunteers on-site early in the new year!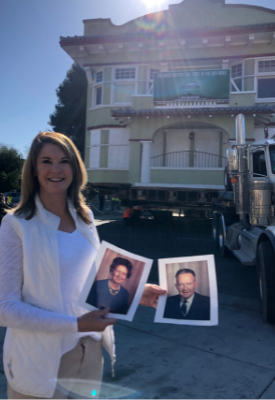 San Jose - Renovation:
Habitat staff is working on finalizing construction documents so we can
get started transforming this historic apartment building that was once home to families like Carol's, into affordable condos for four San Jose families. We hope to start welcoming volunteers at the start of 2022!
Pittsburg - Recycle: What is a recycle, you ask? A recycle project is when a Habitat for Humanity homebuyer moves from their home and sells it back to Habitat for Humanity. Then, Habitat staff and volunteers take the time to make repairs and necessary updates and get it ready to be sold to a new Habitat homebuyer. These projects move fast! In fact, we're planning on having this project done by the end of January!
Oakland - Green Spaces: As a central meeting place for families to gather, connect, and grow nutritious foods and beautiful plants, community gardens are considered the heart of many Oakland neighborhoods, and, unfortunately, many of them are in disrepair and underutilized. So, when there is an opportunity to live out our mission of bringing people together to build homes, communities, and hope - we jump on it! In partnership with the City of Oakland's Parks and Recreation Department, we created a new volunteer opportunity called Green Spaces. Green Spaces creates volunteer opportunities in Oakland and builds critical pieces of infrastructure to enhance and beautify the communities' gardens.
One of our first Green Spaces events has this idea of community gatherings at the heart of it. Corporate volunteer teams and community organizations, school groups, and faith and non-faith congregations are welcome to join us at our Beloved Community build event this January! Together as groups of volunteers from different walks of life, we will celebrate and honor Dr. Martin Luther King Jr.'s vision of a Beloved Community. Space is limited, so click here to learn more and get signed up!