Carol claims she was driven by self-interest. "If my community is a better community, that's a selfish thing!" she says. "Because that means that my life is going to be better, when my community does better."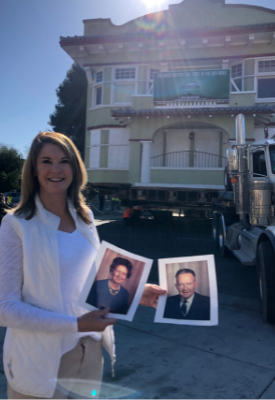 It's clear, though, that her motivation was much more altruistic – and personal. When Carol saw a Sal Pizarro column in the Mercury back in March, she immediately recognized a historic San Jose building on the chopping block of new development. The Pallesen Apartments, rooted on East Reed Street for over a hundred years, faced demolition unless the Preservation Action Council and Habitat for Humanity East Bay/Silicon Valley could raise the funds to move it down the street to a vacant city-owned lot. In the photographs, Carol saw not just an old architectural beauty, but the apartment that gave her grandparents stability and her family a safe haven for 50 years. And in donating the remaining $35,000 needed to make the move, she saw a chance to pass that legacy along to four more families.
"I could tell you about most every nook and cranny in that home," Carol says, recalling a front living room and a long hallway taking you past her grandparents' bedroom, the dining room that served as her father and his siblings' sleeping quarters, the kitchen, and bathroom. She remembers the backyard as the domain of the family German Shepherd, Peggy, and the kitchen as the home's heart. The fold-out couch in the living room was her own bed during the many overnight visits. And across from the couch, Carol remembers the photograph of John F. Kennedy that her grandparents kept atop the television, alongside his famed words, "Ask not what your country can do for you – ask what you can do for your country."
That principle stuck with her, "the idea of just helping each other out." It anchored her decision to donate toward the moving of the Pallesen building. "It just makes me feel good that I was able to do that. I had the resources. Doing something to make this happen – it brought me joy. The thought that this could help other families."
Carol knew that it would indeed help other families. Now that we have successfully saved and relocated the Pallesen, Habitat for Humanity East Bay/Silicon Valley will do a thorough renovation of the century-old property's four units. Our work aims to add a bedroom to two of the units, bring all four homes' electrical, plumbing, mechanical, and HVAC systems up to code, pour a new foundation, and update windows and fixtures to ensure energy efficiency while preserving the property's historical character. Then, the building's four units will be sold to families earning low incomes, through stable, affordable mortgages.
From her own experience with the building, Carol feels confident that the stability of homeownership will make a difference for the homes' future owners. Her parents divorced when she was nine, and for her father's side of the family, their apartment in the Pallesen immediately became "the consistent hub. You'd run into cousins, you'd run into uncles, because people were always coming and going there." It was her sickbed when she had a cold that kept her home from school while her parents worked. It was where her father, at age 17 in 1944, sat on the front porch in his Navy uniform to be photographed before heading off to war. During her years at Santa Clara University, she says, "It would be a little safe place for me to escape for some peace and quiet, a nurturing place." After graduating and marrying, still she would stop in to have tea with her grandmother, or to share cookies with her uncle before going to the San Jose Athletic Club for a workout.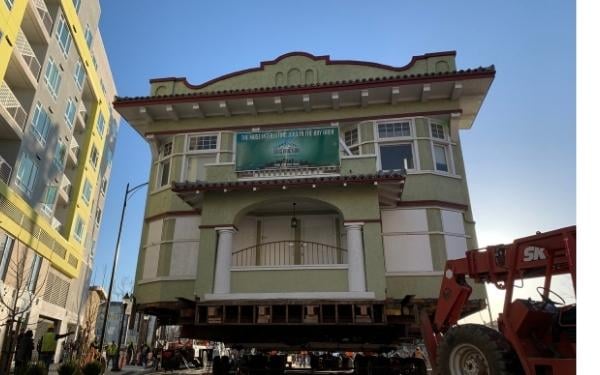 "My grandparents were very poor," Carol says, remembering that "they moved all the time. They were the family that the nuns gave baskets to at Thanksgiving." Once her grandfather established his citizenship and a steady job with Greyhound, Carol's grandparents were finally able to settle into an apartment in the Pallesen Building, where they would remain for five decades.
"This house, this apartment building, and the idea that it's earmarked for lower-income families – it's like coming full circle," Carol says. She can see that the preservation of the Pallesen for affordable ownership housing can mean for these families the same kind of stability it offered her own family, and so much beyond that: "For parents to be able to feel comfortable and safe in their finances and in their home, and then to create a springboard for them to achieve things, to set a tone so that their kids can achieve." The four new affordable homes will be, she says, "a soft landing for other families to gather."
At the end of the day, Carol wanted to be a part of the effort to save and renovate the Pallesen because, she says, "I believe in Habitat for Humanity." In our ethos, she hears the echos of longtime Santa Clara University President, Father Paul Locatelli, when he would say, "Extend a hand up instead of just a hand out."
Carol's donation helped make it possible to complete the herculean task of moving the four-unit building down the street to its new home at Fourth and Reed Streets. Now, Habitat for Humanity is raising the funds we will need to do a thorough renovation and modernization of the homes' systems. One of the biggest items on our list is a super energy-efficient HVAC and hot water heating system, critical to keeping the families warm and comfortable while minimizing the impact on the environment and the homeowners' wallets. The system will cost about $39,000 to outfit all four homes.
Please consider a gift in support of this incredible effort to preserve a piece of San Jose's architectural history, while changing the lives of four local families.