April brings us fully into springtime, and we have new beginnings on the brain. While budgets and credit repair may not be the first things that come to mind when you think of spring, they are some of the best ways to get a fresh start. That's why we kick off spring by celebrating Financial Literacy Month!
Financial literacy is a critical skill in even the best of times.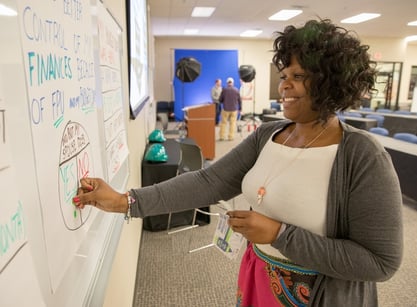 As millions of us struggle to cope with the financial fallout of the COVID-19 pandemic, it's all that much more important. Last year, 40% of American consumers had trouble paying at least one bill or expense, and that hardship affected families across income ranges. In a time of crisis, it is invaluable for people and families to have the guidance, skills, and habits that help them achieve financial stability, wellness, and goals – to weather uncertain times and continue building long after.
The pandemic has also made it impossible to ignore the systemic inequality that underlines our economy. It has disproportionately impacted communities of color, worsening and highlighting inequities that have already plagued our society. We face a growing wealth gap – one that more than doubled between America's richest and poorest families from 1989 to 2016 – and one that is further compounded by a racial wealth gap and a gender pay gap. Habitat believes that supporting families' financial wellness can be a powerful force for change, and that financial literacy can be a meaningful tool in fighting the inequities at the root of our society.
It's our belief in the importance of financial literacy that has us celebrating this month – because Habitat is here to help families build that literacy and learn concrete skills that will change lives. As a HUD-approved Housing Counseling agency, Habitat offers:
Free financial counseling sessions. During these one-on-one sessions, our HUD-approved counselors work with you to develop a personalized plan to help you achieve your financial and housing goals.
Free financial education webinars. Habitat's financial education webinars break down financial literacy one topic at a time and offer participants time to ask questions and get answers from our housing counselors. About two webinars are scheduled each month and registration is required.
Free Financial Education Center. This online resource delivers customized advice, information, and skills, tailored to your financial needs and interests.
Whether it's tackling debt, building a budget, bolstering your savings, repairing your credit, buying your first home, or any number of other financial topics – Habitat is your partner on that path. So, let's make this month one of new beginnings, and face the future with more security, confidence, and a focus on your goals. Happy Financial Literacy Month!