In times of uncertainty, our mission is our north star, and it burns even brighter in crisis. That's because when challenges hit us, it's time to turn inward and dig into the values at our core. Staying rooted in that which makes us who we are – it's what keeps us purpose-driven and building forward no matter what.
It's what guides us as an organization – and as individuals. And some of those at Habitat most in touch with their core values? Our AmeriCorps members. In 2019-20, over 2,000 AmeriCorps served with Habitat around the country, and we were lucky to have 10 of them with us right here at Habitat East Bay/Silicon Valley.
Whether masking up to build homes on site or sitting on a zoom call to build better systems in the office, Habitat AmeriCorps members commit a year of their time to turn their values into action that serves the community.
While there are many benefits to serving as an AmeriCorps, such as an AmeriCorps Education Award and monthly stipend, the experience of living your values is what really makes AmeriCorps worth it.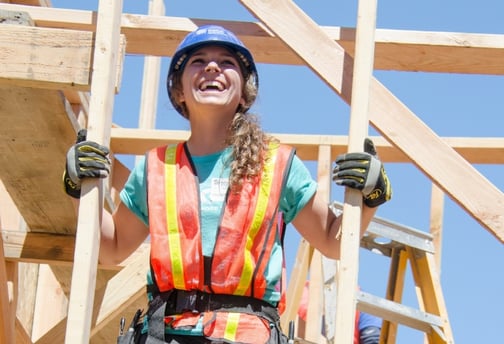 Compassion and empathy motivated one of our former AmeriCorps members,
Melinda
,
to become an AmeriCorps Crew Leader with Habitat. In her work with Habitat families, she recognized a lot of her own family's housing struggles from her childhood. "I understand the stresses that the lack of a stable, safe living condition can bring," says Melinda. "So, when I was provided with the opportunity to help others get out of that situation, I jumped at the chance."
While for many, like Melinda, AmeriCorps is a way to live out long-held principles, for others, it's a way to discover and solidify their core values. For some, a year of service is how to spend a gap year productively. It can be a powerful way to make meaning out of a transitional period in one's life. When serving with AmeriCorps as a gap year option or serving as an AmeriCorps as part of a retirement plan, it can help you find a sense of purpose from experience.
Children's author Amy Krouse Rosenthal explained this best when she tweeted, "For anyone trying to discern what to do with their life: pay attention to what you pay attention to. That's pretty much all the info you need."
By serving as an AmeriCorps Crew Leader, a Volunteer Coordinator, or as a Homeowner Services Coordinator, you get real-world experience to grow your resume and to help you discover what you pay attention to. You get a year filled with ways to discover your values and an environment that shows you how to find purpose in your career and life.
We asked some of our own AmeriCorps service members, "What's at your core?" Some, like AmeriCorps Crew Leader David, start their terms in search of just that. "At this point in my life," he said at the outset of his year of service, "I'm still a little unsure of where I want to go and what I want to do… I figured that doing a little good in the world and learning an interesting trade is about as good an option as any."
Often AmeriCorps end their year with a clearer sense of what's at their core – like Aaron, who looks back on his year and sees it defined by "gumption": "I think that's what it's all about," he says. "Getting the job done. Braving the long drives, the traffic, whatever it takes. Finding the right tool for the job, finding the right equipment. Just getting it done – it takes a little gumption.
So, we join AmeriCorps in asking you, #WhatsAtYourCore?
If you're ready to use what's at your core to make a lasting, tangible difference, apply for a Habitat AmeriCorps position today.