As you know, the Bay Area is taking cautious steps to safely reopen in the midst of the COVID-19 pandemic. At Habitat, we're closely monitoring county guidelines and public health advice as we gradually reopen our construction sites and Playhouse workshops to volunteers. While we wish we could bring our entire volunteer community together at once, our top priority remains the health and safety of volunteers, staff, and the community.
Since reopening in early June, we welcomed a limited number of our Regular volunteers – volunteers who come to site on a regular basis – back to our construction sites with strict health and safety guidelines in place. Our construction staff has been busy training our Regulars on our new cleaning protocols and other safety measures we've enacted to keep all volunteers happy and healthy!
With our site staff and Regular volunteers trained and ready to lead more volunteers, we are excited to phase in our individual and group volunteer opportunities. If you're interested in volunteering as an individual or with a small group, you must first sign up and let us know you're coming. In order to maintain social distance on all our sites, we're only able to have a limited number of volunteers sign up.
If you are an individual looking for opportunities to volunteer in the East Bay and Silicon Valley, click here and sign up using Volunteer Hub. You'll select the volunteer opportunity that works best for you and be directed to a description page like the one below with crucial information about our new policies: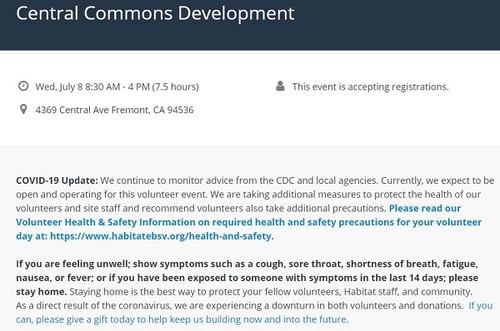 If you're part of a group such as a corporate team, faith community, or school organization, please contact our Team Building team directly to learn about available opportunities. We're prepared to offer you a safe, fun, and interactive experience that lets your team come together – while keeping your distance.
When you arrive for your volunteer day, you'll see the following sign before you can enter site: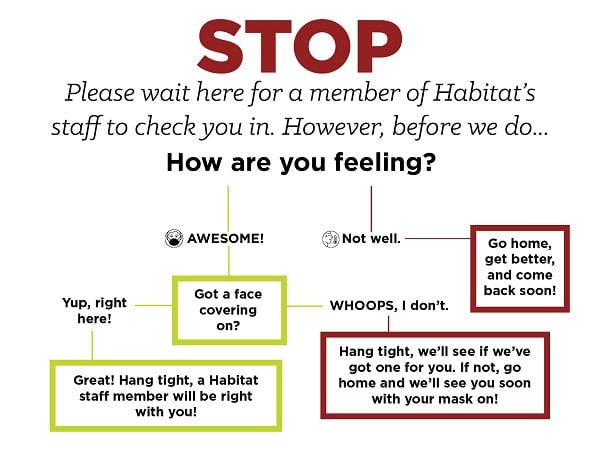 It is important NOT TO ENTER A HABITAT SITE until you are checked in by a staff member. If you are feeling unwell – with symptoms such as a cough, sore throat, shortness of breath, fatigue, nausea, or fever – or if you have been exposed to someone with symptoms in the last 14 days, please stay home.
We do require that all volunteers wear a face covering before entering site. If you don't have a face covering, a member of the Habitat staff will see if we have one to gift to you (shout out to all our volunteers sewing face masks for us!).
Once you're on site, you'll be asked to practice social distancing among other volunteers, even if they are in your group (or as we like to say, "Keep 6 hammers between you!"). Handwashing stations and hand sanitizer will be available throughout the site to keep you feeling clean!
Speaking of clean, to keep our tools clean, we're limiting tool sharing and increasing the frequency of tool cleaning. If you have your own tools or work gloves, you're welcome to bring them with you on your volunteer day – though we do ask that you clean your tools at one of our tool cleaning stations.



If you're having lunch with us on site, lunch times may be staggered to help maintain social distancing. Please bring your own lunch and multiple water bottles to last the day. For safety, we have discontinued the use of communal water sources.
Do not worry, we will be sure you remember these safety protocols with friendly signs across site and have our Health and Safety Guidelines available.
At the end of your volunteer day, we hope that you walk away knowing that your time on site with Habitat will leave an impact far beyond your day's work. Your time with Habitat is building strength, stability, and self-reliance for families when they need it the most. Our volunteers are the heart of our work at Habitat, and we can't build without you!