While we weather a global pandemic, questions abound. Many of us feel the strain of an uncertain future, changing circumstances, and diminished connections with others. It can be a damper on the spirits – for individuals and for teams.
Thankfully, there's a simple and fulfilling way to lift those spirits: volunteering. A recent study "revealed that employers that encourage and promote volunteering boost employee morale, improve the workplace atmosphere, and enhance the perception of their brand." The findings were decisive – get your employees giving back, and it'll give back to your team.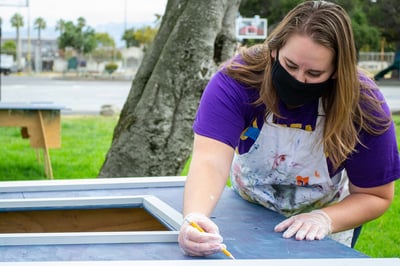 When a company promotes and supports volunteerism, it sends the message to its employees – and potential employees – that the company cares about the community and values good corporate citizenship. And not only does this mean an employee base that is proud of its workplace, it also means appealing to great candidates as well. Volunteerism is great for retaining and attracting talent.
And it can be great for your bottom line, too! When you feel good about your workplace, you tend to be more productive. And on a very practical level, volunteering can enhance job skills. A day of volunteering with Habitat, for example, means an exercise in incorporating new skills, collaborating, communicating, and finding solutions. Do it as a team, and your group comes away with all that, plus a renewed sense of connectedness, engagement, and purpose.
It's easy to make it all happen with Habitat. We have rigorous health and safety protocols in place to protect our volunteers and staff, and we've been hosting fantastic distanced group builds across our sites and programs. By coming out to volunteer with us on the construction site or through a Playhouse build, your team is in for a fun, hands-on day of learning, planning, building, and problem-solving together while collaborating toward a common goal. And, most of all, knowing at the end of the day that they've made an important difference in the community. We're confident that after a day with Habitat, your team will return to the office – or to the videoconference – with their energy, pride, and teamwork turned up.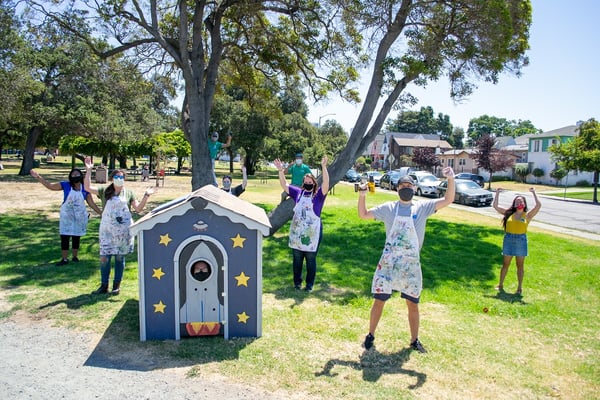 In a tenuous time like this, it's more critical than ever that we keep ourselves engaged with each other in safe ways and making positive contributions to our community. When circumstances feel uncertain and beyond our control, volunteerism can be a wonderful way to feel productive, effective, and just… good!
If you're interested in learning more about team building through volunteerism with Habitat, click here!