An AmeriCorps service year with Habitat for Humanity is filled with challenges, victories, patience, a lot of budgeting – but most importantly, community. The people you meet along the journey are among the top reasons people sign up for a second year.
For Matt DiNote, one of our newest Construction Crew AmeriCorps service members, his AmeriCorps journey started in Federal Way, Washington, as a tutor and mentor to elementary school students. While serving in Washington, he noticed families being pushed out of Seattle due to the skyrocketing housing costs. At the time, he didn't know he'd soon be in the fight for affordable housing with a hard hat on his head, a tool belt strapped to his waist, and a hammer ready to nail together the walls of a brighter community.
Matt noticed the toll housing instability took on his students, mentally and emotionally. As Matt's service year in Federal Way came to an end, he knew he wanted to dedicate another year as an AmeriCorps, but this time he wanted to take the housing crisis head-on by working with Habitat for Humanity. So, Matt headed to Habitat Kauai for a year of building homes with his fellow AmeriCorps.
While serving with Habitat Kauai, Matt discovered the joy in being part of the Habitat community. He spent much time getting to know the future homeowners, their relatives, and friends helping to reach their sweat equity requirement.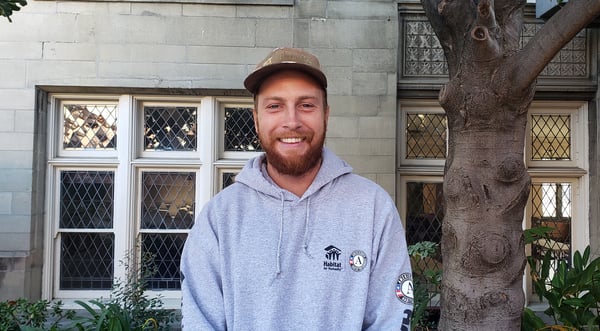 That's what motivates Matt to serve as an AmeriCorps member for another year. It's a priceless feeling that motivates AmeriCorps and Habitat construction staff to take on each day. "As an AmeriCorps member, it's hard. It's challenging, but when you realize you get to wake up and help people, it makes it easier," Matt says. "Seeing how hard some of these families are working to put in their sweat equity – some of them are single parents, some don't have any support on completing their hours, and some work 2-3 other jobs – it makes you want to work harder and build more to help these hardworking families into their home."
As Matt prepared to wrap up his year with Habitat Kauai, he felt a calling to complete another AmeriCorps year with Habitat, and he turned to Habitat East Bay/Silicon Valley. He learned about the condominium-style homes we were building at Central Commons and was interested in pursuing new construction in a diverse place. Intrigued with California, he knew Habitat EBSV was his next move.
We're excited to have Matt join our AmeriCorps team for his third year of service. It is his work and the service of our entire AmeriCorps team that make our impact possible. Serving a year with AmeriCorps is a great way to spend your time during a gap year after school or during retirement, or as a way to explore career paths. No matter the reason, no matter when you serve, AmeriCorps are changing the world every day!