When David Fong heard that Patelco Credit Union was returning as Cycle of Hope's Presenting Sponsor, he was eager to get wheels on the ground for his company team. A "for-fun rider," David's cycling habit was reinvigorated during the first summer of the pandemic.
"Riding gives me the opportunity to exercise, enjoy nature, and time to decompress from work, computers, and get hands-off time from my smartphone," David says – and with over 2,300 miles logged on his bicycle in the last few years, that's a lot of time offscreen! Plus, he says, "It's good for me and the environment!"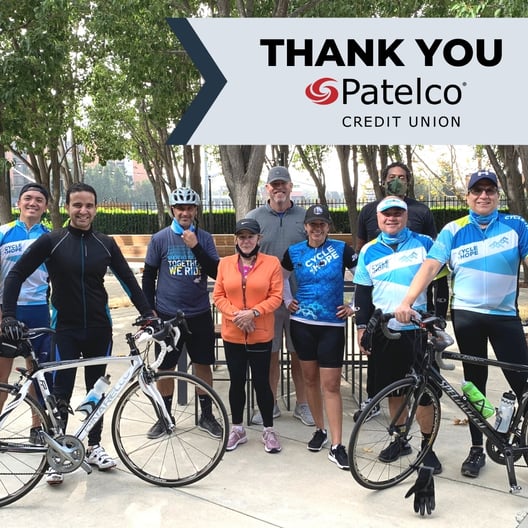 As much as he enjoys cycling, though, David's riding Cycle of Hope for bigger reasons. "During these hard times, giving people and households 'hope' is an important contribution that I can make and I know that it will make a difference for someone," he says. "Fundraising to help those fulfill their dream for homeownership is such a worthwhile cause."
David would know! As a member of Patelco Credit Union's executive team, he has an insider's perspective on the financial impact of homeownership. It's the mission he works toward every day: "to build our members' financial health and wellbeing" – and he believes homeownership is "an important facet."
The idea of a home as "a nest egg for the future" isn't just a theory for David. Homeownership is deeply personal, and he's seen firsthand how transformative it can be. As "a child to immigrant parents," David watched his parents pinch pennies to save up their hard-earned income, managing to achieve homeownership in the 1960s. "Every month," he remembers, "my mom would take cash and walk into a local savings and loan association to make the mortgage payments. They took much pride in homeownership."
It was more than pride – it was a profound sense of stability. When David's father passed away, he and his mother "did not have to worry about having a place to live, and she was able to collect rent payments to allow her to live comfortably." Even now, those rent payments are helping to offset the cost of his mother's assisted living facility.
David is riding Cycle of Hope because he doesn't think that kind of stability should be the privilege of the few. "Over the last 20 years," he says, "I have seen the impact of increasing property prices making that dream of homeownership more and more difficult for hardworking people to ever achieve. I believe that affordable housing is a crisis for all, and not just for lower income-earning households."
While the housing crisis impacts us all, we can all do something about it. David is looking forward to taking his passion for the cause on the road: "to challenge myself for a great cause with other like-minded riders. I have never been on a 30+ mile ride and am excited for the opportunity to complete the challenge and to know that I helped make a difference."
Want to get moving for Habitat along with David and a community hundreds strong?