Darwin Ilan wears many hats, but right now his favorite is a hard hat. That's be­cause he has no question about which of his roles is most important.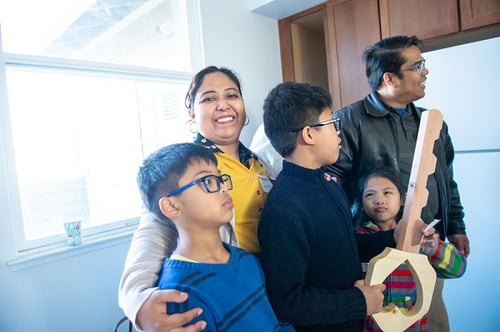 "I'm just doing my job as a dad," Darwin says. And that job is what brought him to Habitat for Humanity East Bay/Silicon Valley. "As a dad, as a father," he says, "I'm thinking of the future of my kids."
For months you could find Darwin working hard on a construction site in the heart of Fremont, hammering away at his family's future home, working toward the 500 hours of sweat equity his family must contribute as a part of their partnership with Habitat for Humanity. Even after completing that requirement, he kept coming back.
"It feels like such an accomplishment," Darwin marvels, looking back at his fami­ly's journey to Habitat.
While he waited for a Habitat homeown­ership opportunity to become available near his job in Union City, Darwin kept looking for a way to move his family out of their apartment. He and his wife, Rhea, and their young children – 6-year-old Eleora, 8-year-old Darren, 10-year-old Rhett, and 12-year-old Shae – had long outgrown their space. "We absolutely needed to change our living conditions," Darwin says. "Having to live in two bed­rooms, with four kids who are growing? It's a very cramped, crowded space. But we thought we had to be satisfied with what we have now."
But when Darwin learned that Habitat East Bay/Silicon Valley would be building in Fremont, he knew his family needed to apply. When they were selected to purchase one of the homes, Darwin says, "We were elated about it. We'd been looking and looking, and this opportunity came, and we put all of our energy into it. We are humbled by it. We are so happy."
Now, he says, "It's an achievement, to be looking forward. As a family, we're just looking forward."
Little Eleora looks forward to pink walls while her siblings just relish the idea of more space and privacy. For Rhea, knowing they will be Habitat homeowners is "a sigh of relief."
"I'm looking forward to see if I can be of help to more families. That's one thing I've learned. You've got to give back."
For Darwin, he looks forward to a short commute and a stable mortgage, and securing his family's future. And he also aims to keep paying it forward. "I just thank Habitat," he says. "There are so many families in the Bay Area that have a hard time. We are just a few families, and thank God we were approved. I'm looking forward to see if I can be of help to more families. That's one thing I've learned – you've got to give back."
Hear what Darwin has to say in a video welcoming his new neighbors to the community!