We know that Habitat changes lives. Our homeowners will tell you that the future holds new hope after Habitat. Jose and Elsy Paez agree wholeheartedly, but few other Habitat homeowners have seen change quite like theirs.
That's because they came to Habitat through separate paths, in separate homes – until Habitat brought them together, and they married last summer.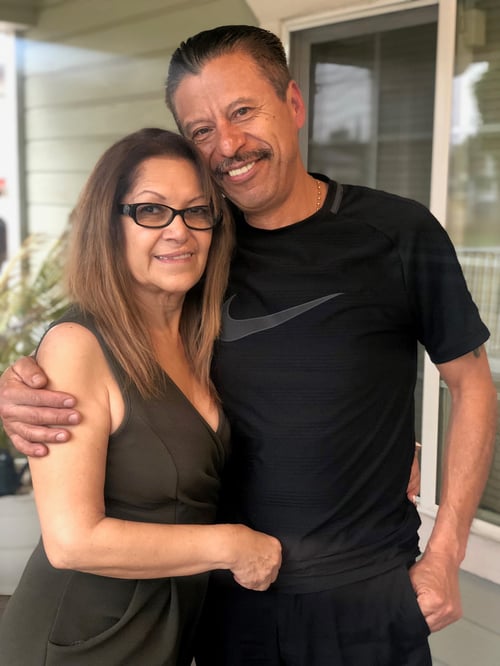 Elsy and Jose purchased their Habitat homes at different times – Elsy nearly ten years ago in Bay Point, Jose three years ago in Walnut Creek. Now, they call Bay Point their shared home, and they enjoy sharing their Habitat love story with others.
In 2015, Elsy went to lunch with some fellow Habitat homeowners, including Isabel Paez, at a local Salvadoran restaurant. Isabel's sister called her son Jose, who was in the neighborhood, who came to join them for a meal.
"I was working my sweat equity hours, so I was all dirty!" Jose remembers. He was taking a break from construction on his future home at Habitat's Pleasant Creek development.
Elsy doesn't remember the dirt, only that, "Right away, I had kind of a crush on him."
This wasn't the first time she'd seen Jose, however. They had crossed paths at previous Habitat events, but Elsy likes to point out that Jose never took notice of her.
"I was always moving around!" Jose is quick to defend himself. "I was always helping to move things or cook, things like that."
That day, however, sparked curiosity on both sides, and both Jose and Elsy asked Isabel about the other.
"He started calling me on his lunch hours," Elsy remembers, recalling phone conversations they would have during his construction breaks. "Then, finally we made a date." When she got word of an emergency, however, Elsy canceled to be with her family in El Salvador. Jose, later, was also taken out of town for family obligations. The two lost touch in the interim.
A few months passed, when Isabel invited Elsy to a cousin's quinceañera. Elsy knew Jose would be attending the milestone birthday celebration, and she thought, "This is my last chance. If nothing happens, that's it. I'm done."
"I love dancing, and so does she, but I didn't know that at the time," Jose remembers. "I was dancing with my cousins, and I'm looking at her, and she's looking at me, and I thought, 'When do I get to have my turn?' So, I asked her to dance, and after that, I didn't want to let her go."
Jose and Elsy both got involved with Habitat's Family Resource Committee. "That's how we started spending a lot of time together," Elsy says.
She still remembers the first time Jose asked to visit her. "I think it was a Friday, and he brought me a rose, and he brought one for my daughter, a yellow one," Elsy says. "That? I saw that, and I said, 'That's it.'"
Jose had been single for 20 years, and he didn't think that was going to change. "I didn't think I was going to get married again," he says. "But, I don't know. She turned something around in me, obviously."
"Every time the subject of marriage came around, he changed the subject!" Elsy teases.
Elsy and Jose married in July 2018.
"She has turned my life around," Jose says with a smile. "Once I was with her, things started getting better, and then once we got married, it was like boom! Fourth of July."
"My life has changed," Elsy agrees. "It's a beautiful thing. It's not just having a man to help when things break in the house. It's that you're not alone. It's totally different. People even say I look different."
Life turned around once for both Elsy and Jose when they became Habitat homeowners. It meant homeownership for Jose, who had thought the prospect was hopeless. It meant cutting Elsy's previous housing costs in half, and accessibility, space, and some independence for one of her daughters, who lives with a disability. But they never expected Habitat to turn their lives around a second time, when they found each other.
"It's a blessing, every single day," Elsy says.
"Priceless," Jose agrees.