It was mere coincidence that brought Marie to Habitat East Bay/Silicon Valley. She was working at the First Presbyterian Church, where our Oakland office is located, when she learned about our Homeownership Program. Marie was single and raising her son, and she says she was "intrigued by the program – it was exactly what I was looking for."
That curiosity not only led her to reach for her own opportunity at affordable homeownership, but also to bring that same opportunity within reach of more families like hers.

After completing many hours of sweat equity on the construction site, Marie hadn't gotten her fill. "I decided to continue volunteering for Habitat to help other families realize their dream of becoming homeowners, and to give back to the community."
And give back, she has. Over ten years after she first held keys to her Oakland home, Marie is still helping Habitat serve more people. Whether she's supporting Habitat families with our Family Resource Committee, or swinging a hammer alongside the rest of the Women's Crew, Marie is an integral part of our work.
Becoming a Habitat homeowner and then volunteer, Marie has picked up quite a few memories – and a blossoming confidence – along the way. By the time she had finished helping to build her home, she says, "I knew the ins and outs of my own house and could say, 'I did this or that,' which is very rewarding!"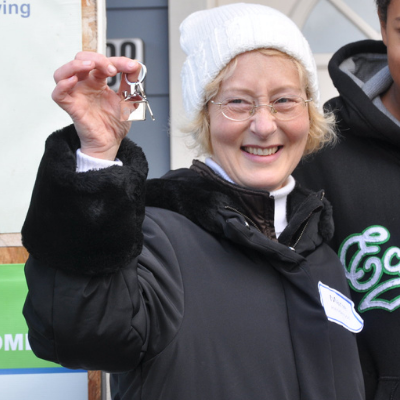 This self-assurance felt particularly vital to Marie as a woman, both as a homeowner and on the construction site. "I believe in empowering women," she says. "I also believe in women gaining parity with their male counterparts… At Habitat, women are given the tools to succeed in what has been a predominantly male activity."
That feeling is reinforced in her work with the Women's Crew, which Marie says is "a group of women who come together and support each other. It feels very empowering to work along with other women who have the same goal: to create change in the community. As women, we demonstrate that we get the job done as well as the men."
Marie stays motivated in her volunteerism because as she says, "Homeownership should not be the privilege of high-income people, but should be accessible to everyone… Owning a home represents the stability, independence, and freedom of attaining one's goals." And, of course, she loves the feeling of seeing the "pride and joy" on the faces of fellow Habitat homeowners when they, in turn, achieve their dream. "I am happy that, as a homeowner myself, I can give back some of the help I received when I was working on my house."

Interested in joining Marie as a volunteer with Habitat? "Go for it," Marie says. "If you don't do it, you will never know what you are capable of doing."
Click here to sign up for our upcoming, monthly Volunteer Updates email.