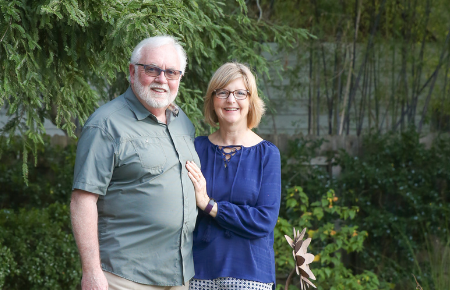 "It was a no-brainer," says Lou.

Randi and Lou have chosen to designate a gift to Habitat East Bay/Silicon Valley in their will, and for them, it was an easy decision – but that doesn't mean it was done without a thought. It represents values that reach back into their Wisconsin childhoods, to upbringings imbued with what Randi describes as "the importance of community, helping your community, being part of a community."

Plus, with Randi's professional experience in nursing and mental health, and Lou's in finance, they both have an up-close view of how vital secure housing – and homeownership in particular – can be to a person's well-being.

"Homeownership is just the key to everything in terms of your future," Randi says. "I think it's just so important for people to have their own home."

Lou agrees, adding that "in the Bay Area, it's so expensive, and there are so many people in need of affordable housing."

Randi and Lou made their will and trust while they were still working – "My background is in finance, so not doing it was not an option!" Lou laughs – and designated Habitat as a beneficiary even before they set foot on site as volunteers years later. Randi had long known she wanted to support Habitat, an organization she admired since her childhood days of helping her father fix up their own house, hammering bent nails back into shape to save the hardware. She remembers the pride and investment she felt at that young age, and always wanted to help Habitat ensure the same for others.
"Now, being so involved with Habitat and working in the office with all of the staff, I know that everyone has this passion to help others," Randi says, adding, "I know the finances. I know Habitat is spending the money so wisely and so judiciously toward the families and the homes. I know that Habitat does extremely well as far as where the money goes."
Years after designating Habitat in their will, Randi and Lou retired from their professional lives and became volunteers in 2011. From their first volunteer days, they have had an insider's view of Habitat's work, and it's firmly reinforced their decision. That's because they pitch in on nearly every possible front – whether they're entering data in our offices, assembling homeowner manuals for Habitat families, hammering away at our construction sites, staffing fundraisers, supporting Playhouse builds, or whatever other help we need.
"Now, being so involved with Habitat and working in the office with all of the staff, I know that everyone has this passion to help others," Randi says, adding, "I know the finances. I know Habitat is spending the money so wisely and so judiciously toward the families and the homes. I know that Habitat does extremely well as far as where the money goes."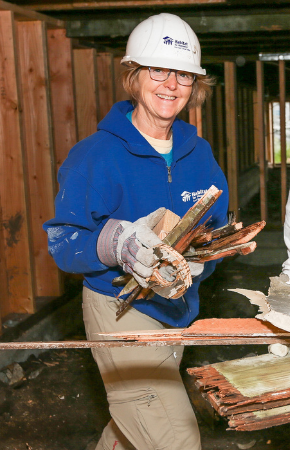 For Lou, that's a key point when reviewing ways to leave a legacy. "Look at how the organization is spending the money that you're leaving," he advises. "You want to really take into consideration where the funds are going and what they're being used for. There are a lot of organizations that don't manage their money that well. But we know that whatever we leave to Habitat will be spent wisely and do good."
Through their volunteerism, Randi and Lou have had the opportunity to see, firsthand, the good that can be done. For Randi, one moment in particular exemplifies the work we do. At a Home Dedication for Muir Ridge in Martinez, she recalls one new homeowner reflecting on her Habitat journey: "She was talking about bending rebar for the foundation of her home. Everybody hated the job, but she loved it." From that point to coaxing herself onto her own rooftop despite her fear of heights, this homeowner's pride was clear. "She stood on top of her roof," Randi remembers, "and she thought, 'Oh my goodness. I have built this home from the bottom up, and it's my home.' It was just so heartwarming, so amazing."

"It's just such an important organization that does such good work, and that's why we volunteer," Lou says. So, when it came to their legacy, he says, "It wasn't a hard decision from our perspective. We just wanted to give back, and know that we can continue to do good and help others."