In spring we often think of new beginnings, and at Habitat East Bay/Silicon Valley, we're lucky to witness new beginnings in our work all the time. We celebrate a fresh start whenever we plant shovels in the earth at the Groundbreaking of a new site. We look with hope and optimism to a renewed future at every Home Dedication. We see children race through newly-built bedrooms as their parents clutch their house keys for the first time.
This spring, though, we also celebrate a completion. We commemorate the other end of that incredible journey that our Habitat homeowners travel.
We honor Russell Johnson, who recently finished paying the mortgage on his Habitat home.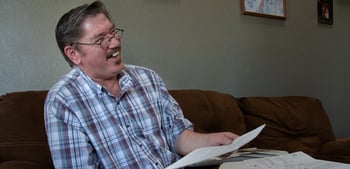 Russ purchased his Antioch home in early 1997, a major achievement for the single father of four. Before Habitat, Russ had struggled to support his four children – whom he was raising on his own – while working as a school bus driver. He and the kids lived in a rental that had fallen into disrepair and termite infestation, at the mercy of an unreliable landlord. Habitat brought stability, opportunity, and a sense of permanence – a hand up to a father who wanted to give his children solid ground.
Now, over 20 years later, Russ can still vividly remember those early days of their Habitat journey. He still keeps mementos from the beginning, including the original blueprints for the house, gifted to him by Habitat. Looking at the plans now – faded through the years – Russ says, "This brings back memories."
"I'm so proud," Russ says quietly of this latest milestone, completing his mortgage. "Now I really own it."
And although it's the end of something, it's also a beginning. His mortgage payments behind him, Russ is now retired, and he uses much of his spare time to travel. He also volunteers, giving back to Habitat at special events by providing entertainment for children. His home also sees new beginnings, as it's still the center of family gatherings, taking "lots of abuse" as well as hosting new memories from eight grandchildren. For Russ, the completion of his mortgage is a landmark on a journey that continues forward.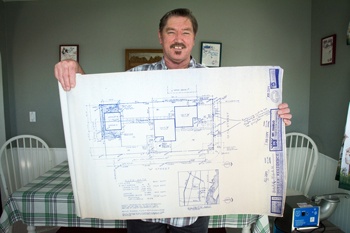 The journeys that begin with Groundbreakings and Home Dedications – and culminate in mortgage completions – are only possible because of our community of support. The generosity of our supporters transforms lives.
When you give, you make a real impact on real people. Every dollar counts every day, but through June 30th, every dollar can count twice. That's because a former board member is matching all gifts up to $50,000. Be sure to donate before June 30th to double the impact of your gift, and double the difference you can make in the lives of people like Russ.