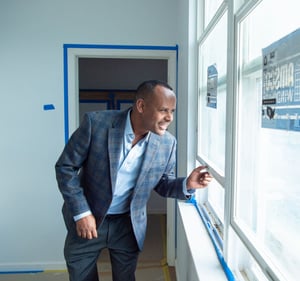 Wally knew that he needed a change. He knew it wouldn't be easy, but he had inspiration close at hand.
Always first for Wally are his two little girls, 5-year-old Rebecca and 3-year-old Bruk. Along with the girls' grandmother, Ayelech, the family of four was living in a neighborhood plagued by crime and drug activity. "I always didn't feel safe," Wally says, "especially when I was thinking about my little daughters." The volatile environment was a constant concern for Wally.
He worried, too, about his girls' safety inside the house. Their previous house is over a hundred years old, and between mold and general disrepair – along with a landlord who "was usually reluctant to get things fixed" – Wally was anxious about the living conditions in which his daughters were growing up.
Even with these concerns, Wally says, "The rent was high, too." The pressure of keeping up with the rent had Wally searching for a better option. Simply put, he says, "I needed to move out of this place for safety and financial reasons."
The turning point in Wally's search came in 2015, when he and his daughters were on one of their regular trips to the library. There, they ran into a friend – taking his own children to browse books – who happened to be a Habitat homeowner in Walnut Creek. "He encouraged me to start the process," Wally remembers. And he wasted no time. "Two days after he told me, I attended the workshop at Habitat." From there, Wally was dogged in his pursuit of this opportunity at affordable homeownership, submitting paperwork and following up with Habitat staff.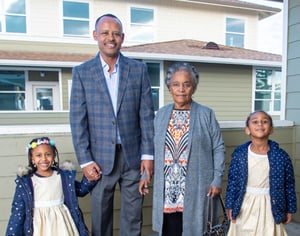 When he learned that he and his family were to become homeowners at Central Commons in Fremont, Wally says, "I was sleepless, and I felt like I was born again!"
After his family was selected, the work really began. With 500 hours of required sweat equity stretching before him, Wally knew it would be a tough road. "Sweat equity was hard for a father of two little kids and a full time job," Wally admits. "But it was still enjoyable, because I was always seeing the future: the happiness the new home will bring about to me and my family." He also relished the "opportunity to work with amazing people that I will never forget in my life."
Hundreds of hours of siding, roofing, painting, and more behind him, Wally now looks forward with excitement to what the future holds in store for his family. For himself, Wally has his eye on going back to school. For Rebecca and Bruk, he can't wait to raise them in a safe, close-knit neighborhood. "I feel very happy for my little daughters," Wally says. As he faces the next chapter in his life, Wally knows that he has found the security, safety, and opportunity he has always wanted to offer his children.