Homeownership can mean many things to a family, from the most profound shift in perspective to the simplest of pleasures. For the Arciniega family, who became Habitat homeowners just before Christmas, it has meant all of those things. And as Maria Arciniega starts this new year, she and her children look forward with optimism and excitement.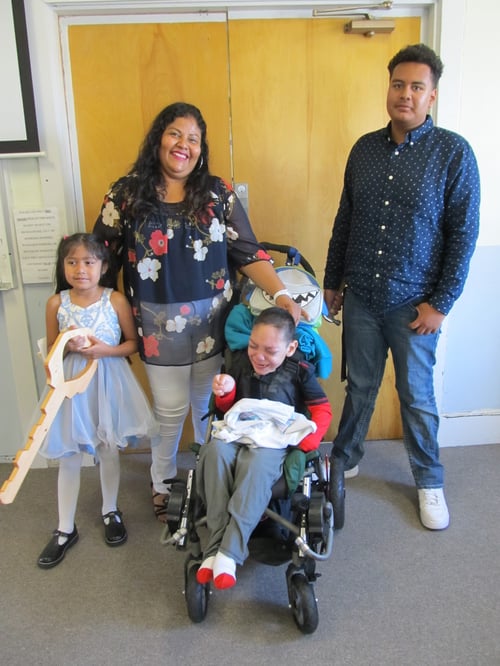 It was a busy December for Maria, who has been moving her family into their Livermore home. Still, even in the midst of the moving frenzy, Maria was able to make time for Christmas festivities in their new space. "I put up the tree," she says, "and I did the cooking."
It may seem like a simple celebration, but for Maria, these simple things mean a lot in their new home. In their previous apartment, the limited space was a challenge, particularly for eight-year-old Abraham, whose cerebral palsy confines him to a wheelchair. "Everything was wonderful," Maria says of this first Christmas in their new home. "Very different from last year. Last year, Abraham needed to stay upstairs, and one of the other children needed to stay with him. This year, Abraham could be close to us."
That nearness has meant so much to the family. Their old apartment made it impossible to gather in one room as a family. This Christmas saw Maria and her three children gathered around the tree in their new living room. And the space doesn't just change the holidays for the family. It makes a difference every day.
"Now, it's more easy," Maria says. "Because when I'm cooking in the kitchen, Abraham can be with me in the kitchen, or nearby in the living room or dining room. It's so easy for him to be close to me now." The other children – 15-year-old Alejandro and seven-year-old April – are relishing the added space, too. "April and Alex are just running around the house," Maria laughs. "Oh my God, they are very happy."
With the new year beginning, Maria sees January as the start of many good things to come. She will continue her college classes with the new semester, and she sees 2018 as the year she will start eating healthier and taking walks in their new neighborhood. Alex will start basketball, and April will begin a new reading program. Abraham is already loving the extra space, but he's really looking forward to summer, when he'll be spending lots of time outside. All three kids will continue their campaign for a puppy – preferably a Husky – now that they're in a home of their own.
"Everything is good," Maria says as she looks forward to the new year. "I am happy, and so are the kids."