For the people working on the front lines of this health crisis, life has been thrown into a shaky balance – serving our community despite fear for their own safety and that of their families. While many have families sheltering at home, they themselves rush into harm's way when duty calls. Our Playhouse Program is honored to donate many of our volunteer-built, pint-sized playhouses to these front-line families. And though it's but one small thing, it can mean a lot.
Tim has one of those front-line families. Tim is a firefighter-paramedic in San Jose, with a full house – fuller than ever now during shelter-in-place. His wife has transitioned to working from home, and their teenagers have had to adjust from having busily-scheduled lives to being confined to the house. There is one family member bearing the transition quite well, though: their toddler, Noah. "Our youngest loved the fact that his mom and siblings were now home with him all day," Tim says, "so that was a silver lining in all of this."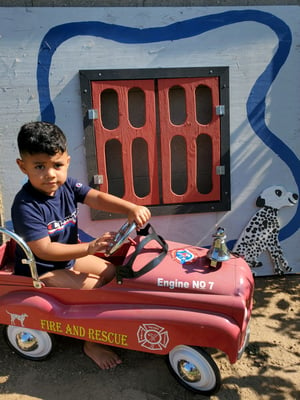 One of the reasons Noah is enjoying his time at home is the playhouse we recently donated to his family. A group of volunteers from Asana gathered at our Playhouse Workshop in January to design and build a firehouse-themed playhouse for little Noah. Tim waited until Noah's third birthday to set up his new play space. "Once set up, he LOVED it!" Tim says. "He notices everything, and the little details caught his eye. Particularly the firehouse cat that was painted on the front. Noah named him Tom, and he always greets Tom when going into his fire station. He also likes the Dalmatian on the front, but still hasn't decided on a name for him yet." Noah's family even gave him his own little fire truck to go with his new station!
It's a welcome respite in a scary time. "As a firefighter/paramedic, we rely on our training to help overcome any uncertainty and to help calm our nerves," Tim points out. "This outbreak has thrown all that out the window. There are so much uncertainty and unknowns that surround this virus that make it that much scarier. Every call for service now unleashes a small amount of fear in the back of your head. 'Is this the call I get COVID?' is constantly playing over and over." Tim remembers that the initial month of quarantine saw a flood of 911 calls from people believing they had symptoms. Then, after a pause in call volume, a second wave hit with many actually sick from the virus, which has ramped up the anxiety in responding to these calls. "Things have slowly begun to 'normalize' for us – as much as they can, anyway," Tim says, "and we continue to serve the residents the best we can.
"I think for me, personally, the hardest part has been the constant threat that I may bring something from work home to the family," Tim says. But knowing his young son has a special space to weather this time of sheltering is a small relief. "Seeing Noah enjoy the playhouse has been a nice distraction not only for him, but for us," Tim says. "It has allowed us to take a few moments every day to forget the craziness in this world, and allowed us to focus on the important things like family. I really feel the work you folks are doing is wonderful. The joy the playhouse has brought to our son and in turn to us has been awesome."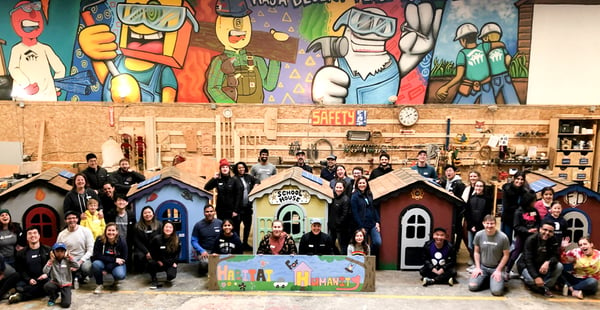 For us at Habitat – and for our Playhouse volunteers – it's just one small thing we can do in gratitude for our heroes, who put their lives on the line in service to the rest of us.
If you would like to build a playhouse with us, we are offering socially-distant builds with rigorous safety protocols.
If you would like to receive a playhouse, please complete this form.