How Habitat is Promoting Environmental Responsibility in Affordable Housing
At Habitat for Humanity East Bay/Silicon Valley, we've seen first-hand how small steps can create big impacts when it comes to improving the health of our planet and its people. Our journey began in 2003, when we installed our first solar panels in East Oakland – laying the foundation for our commitment to developing affordable and sustainable homes. For two decades, we've been pushing the green-building envelope: proving that it's not only possible, but necessary to create a better world for ourselves and future generations.

We ensure access to homeownership, while also providing homes that are healthy for our homeowners, our communities, our local ecosystem, and the planet. From site selection and design through construction materials and techniques – we use climate-smart principles throughout all of our projects.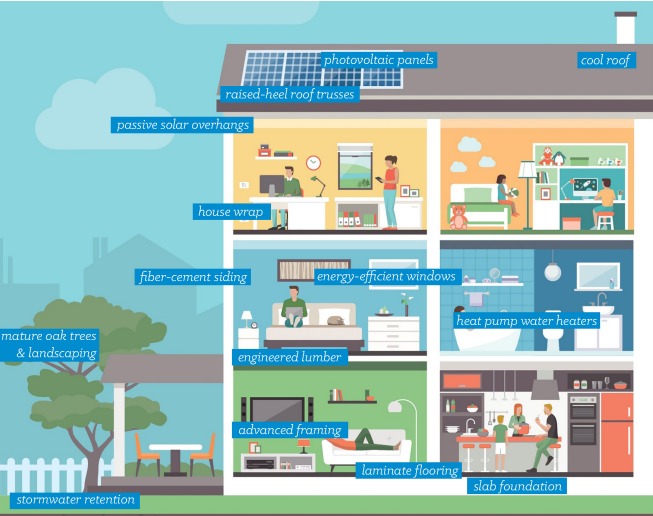 In every Habitat home we use durable, sustainable materials such as: fiber- cement siding, "cool roof" rated asphalt shingles, and Tyvek® HomeWrap®, along with high quality components such as: raised-heel roof trusses, passive solar overhangs, and low-e windows, to name a few. These implementations prolong Habitat building structures and help decrease energy use. This not only reduces the amount of waste sent to landfill due to replacing items, but it also offers homeowners long-term savings in terms of maintenance costs.

Other sustainable practices include:

Using laminate flooring that is made of recycled waste from fast-growing renewable species like pine, thus helping our planet by preventing deforestation. This is also an effective way to help improve indoor air quality as laminate flooring traps less particle matter.
Building homes atop a thick, insulated concrete slab foundation. Doing so, helps maintain a steady, comfortable temperature inside the home regardless of the weather outside.
Implementing a weather-based irrigation system and water-wise landscaping that helps maximize water conservation efforts in our Habitat communities, such as at Esperanza Development.


We believe that sustainability goes beyond energy efficient homes – which is why we take a holistic approach to creating sustainable communities. This includes working with local partners such as government agencies, businesses, non-profits, educational institutions and community groups to achieve shared goals such as affordable housing, clean energy, and green infrastructure. Through our work, we strive to create a world where people have access to safe and healthy homes – where air quality is improved, renewable energy sources are used, and communities feel connected to the larger global environment.

This isn't just about the latest green technology – sustainability informs every aspect of Habitat's mission, from our building techniques to our approach. We are constantly striving to innovate in our climate-smart building designs and incorporate ways to help reduce emissions and other environmental impacts.
You can be a part of this movement, too. You don't have to build 42-home developments like Epersanza Place to go green! Start small by reducing your waste, recycling when you can, reusing your materials, and shopping at our ReStores! Let's build a better future, together!

To read more about our sustainable construction practices, click here:
• Sustainability - Maximum Impact with Minimum Footprint
• Sustain: Habitat's 2022 Annual Report